Published 15-04-2021
| Article appears in April 2021 Issue
Beating the mice to it: MaxiTRANS Bulk Haulage to the rescue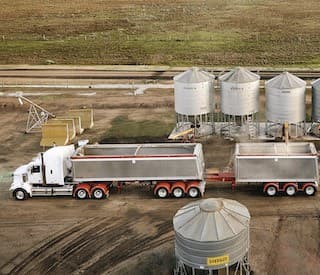 Farmers already battered by drought, fires and floods now face large losses in crops and damaged equipment from the mice plague currently affecting areas from Queensland to Victoria to the South Australian Mallee.
Haulage truck drivers have described 'waves of movement' across the road in grain producing regions.
Yet, even as the mice plague makes grain growers' lives harder, the harvesters are working with more urgency, getting the crop in before the mice destroy it.
And as the wheat, oats and barley crops are harvested, the same harvesters are working on planting sorghum and oil seeds.
Trucks, too, work around the clock, and trailers are in short supply.
MaxiTRANS is at the forefront of meeting the national need for equipment, supplying bulk haulage solutions for farmers and transport companies, including the Hamelex White and Lusty EMS bulk haulage tipper products for grain haulage. 
Lusty EMS has a wide range of tipper bulk haulage solutions from the popular and versatile semi-tipper available in modules suitable for single trailer work or B-Double combinations, through to Stag B-Double combos that don't need to unhook to unload.
PBS combinations and dollies for road train setups are also available through Lusty EMS.
Hamelex White is a leading Australian tipper manufacturer, supplying tippers and bulk haulage equipment, including B-Double Tippers, three to six axle truck body and dog combinations, Tip over Axle (TOA), Moving floors and chassis tippers.
The products are ideally suited to grain haulage when maximum payload and low tare weight are priorities.