BEARING CONTAMINATION: HOW TO PREVENT A PROBLEM THAT CAUSES 25% OF ALL FAILURES
12-07-2017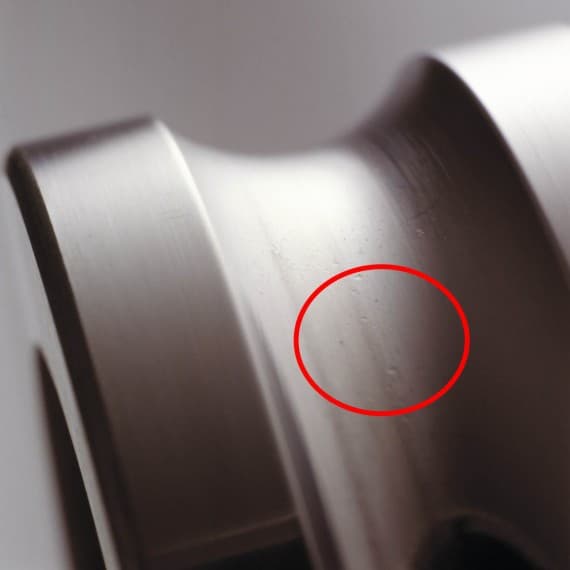 Close-up of the effects of bearing contamination
Bearing reliability is a crucial component of productivity and uptime in expensive machinery and plant throughout industries such as mining, manufacturing, bulk handling and primary production. If a bearing fails, production can grind to a halt.
Bearing failures can be caused by a number of factors, including:
1. Fatigue, which can occur naturally over time, but also occurs prematurely if the incorrect bearing is chosen for the task.
2. Incorrect installation or mounting, which can lead to significantly higher wear and tear and ultimately premature failure. Examples include misalignment, incorrect fits – too loose or too tight, out-of-roundness in shafts or housings. About 25% of bearing failures occur because of incorrect mounting.
3. Lubrication problems, which can occur if too little, too much or incorrect lubrication is applied to the bearing. Incorrect or insufficient lubrication is the single biggest cause of bearing failure, accounting for more than 45% of problems.
4. Poor maintenance or monitoring, because even the best precision bearings are not 'set-and-forget' technologies. Their maintenance needs change with service and local conditions, so good monitoring and suitable maintenance is vital.
5. Contamination, which can occur when foreign substances enter the bearing. This is often considered to be the major component of lubrication problems. Contamination is particularly prevalent in aggressive process and manufacturing environments, such as mining, primary production and bulk handling.
Bearing contamination challenges
"Despite it being an eminently preventable problem, a staggering 25% of all bearing failures are caused by contamination," says Martin Grosvenor, Industrial Sector Manager, Schaeffler Australia.
"Contaminants can include airborne dust, dirt or any abrasive substance that finds its way into the bearing. The main sources of these contaminants are dirty tools, contaminated work areas, dirty hands and foreign matter in lubricants or cleaning solutions," explains Grosvenor.
Symptoms of a contaminated bearing include excessive vibration and wear, which is best detected before it becomes expensively obvious in the form of unscheduled maintenance, or worse, production breakdown.
Schaeffler solution
In challenging environments or operations where the risk of contamination is high, such as continuous casting plant, conveyor belts, elevator plant or food industry applications, Schaeffler's FAG Sealed Spherical Roller Bearing (SRB) is ideally suited to the task.
FAG SRBs are a special rolling bearing design where the inner ring runs inside the outer ring on two rows of rollers. The bearings have an angular adjustment of up to 2° and are not only designed for high load carrying capacity but can also compensate misalignments, due to the fact that the symmetrical barrel rollers orient themselves freely on the concave outer ring raceway.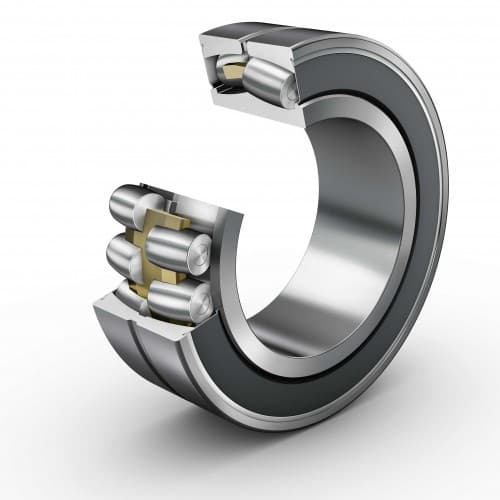 FAG Sealed SRBs offer the same benefits as open SRBs, but with seals typically consisting of nitrile rubber or, high-performance fluoro rubber depending on the application and operating conditions.
(Seals made from fluoro rubber use particularly high performance materials that may release vapour when heated to 300°C. This may occur if, for example, a gas torch is used in the dismounting of a bearing. In such cases, the appropriate safety datasheet must be observed and this is available from Schaeffler on request.)
FAG Sealed SRBs are available to suit a wide range of common applications in heavy industries such as pulp and paper, mining, minerals processing, wood products, and power generation.
"The seals effectively close off the bearings, giving them an increased operating life compared with open bearings, because they are protected from contaminants. Additionally, they require significantly lower quantities of grease to keep them lubricated (up to 80% less in some applications), which means they can assist in reducing environmental impacts too," says Martin Grosvenor.
Other features of Sealed SRBs include:
• Very high basic dynamic and static load ratings
• Environmentally friendly characteristics
• Lower grease consumption and disposal costs
• No requirement for expensive relubrication systems
• Reduced maintenance outlay
• Simple reconditioning
X-life Sealed SRBs
Schaeffler's FAG Sealed SRBs are also available in X-life ranges (marked by the suffix E1), which have improved kinematics, optimised surfaces, are made from higher performance materials and do not have a rigid central rib.
These enhanced characteristics of the premium X-life range mean that under identical operating conditions, basic dynamic and static load ratings as well as the basic rating life of the bearing is significantly improved. In certain applications, this means that a smaller bearing arrangement can be designed.
Schaeffler introduces largest ever Sealed SRB
Designed to help industry reduce costs and boost efficiency, Schaeffler has developed the world's first sealed 241/1250 spherical roller bearing for high-pressure grinding roll crusher applications.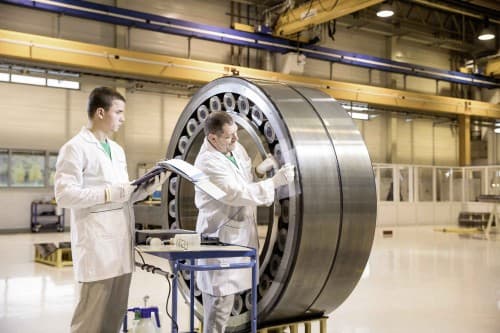 Featuring an outside diameter of nearly 2m, the ultra-large 241/1250 bearing was specifically designed for the highest-capacity high pressure grinding roll crushers (HPGRs) used by the mining industry. Previously only available in an open configuration (ie without seals), Schaeffler's new sealed version of this massive roll support bearing is designed to prevent the crushing materials from contaminating its internal components.
Schaeffler developed the sealed 241/1250 bearing to help the mining industry cut costs and boost efficiency. Until now, miners have typically been forced to inject high quantities of grease into the bearings to prevent contamination. Although necessary, this practice wastes resources and significantly increases a mine's preventive maintenance expenditures. By introducing a sealed bearing for this challenging application, Schaeffler's innovation promises to also increase mining productivity.
The bearing's sheer mass – as evidenced by a total weight of approximately 8t, including rolling elements that weigh 60kg each – presented an engineering challenge that very few companies would be able to master, even before the complex sealing arrangement is factored in. The outside diameter of the moulded seal, which features unique design elements that were first developed for marine applications, measures approximately 1.4m.
The state-of-the-art sealing properties are provided by metal shields installed on both of the bearing's side faces, each of which features an optimised polymer seal that prevents the ingress of crushing material. According to Schaeffler Industry Manager for Raw Materials, Mike White, "The new sealed version of our high performance 241/1250 bearing is expected to offer significantly longer operating life, while substantially reducing the cost of preventative maintenance to the end user. Schaeffler is committed to helping our mining partners produce more while consuming fewer resources. We are very proud to be the first bearing manufacturer to offer this design improvement to the mining industry."
Conclusion – the importance of maintenance and monitoring
High quality bearings are a worthwhile investment because they will operate reliably for longer. In order to optimise the performance and operating life of such a valuable investment, proper maintenance and monitoring is essential. In some cases, it can as much as double the operating life of the bearing.
One method is to install monitoring technology such as Schaeffler's FAG SmartQB (incorporating SmartCheck technology) ready-to-use monitoring solution for electric motors, pumps, and fans. It is easy to install and does not require any specific knowledge about vibration diagnosis, including for common installations such as vibratory, grinding and rolling processes.
Another innovative new method is to use the bearing as the monitoring device. Schaeffler has recently introduced to Australasia its new and radically advanced VarioSense roller bearings that report on their own condition and load through built-in sensor clusters.
Schaeffler's new FAG VarioSense bearings are configurable sensor bearings for monitoring machines, processes, bearing condition and load across diverse industries where downtime is costly and maintenance is expensive.
To complement advanced bearing technologies and monitoring solutions, a maintenance programme tailored to each individual application is ideal. In addition to checking that the bearing is operating properly and without contaminants, this should include relubrication to ensure the bearing does not suffer any premature damage.
Schaeffler Australia
02 8977 1058
www.schaeffler.com.au