BEANAIR WIRELESS SENSORS FOR OIL AND GAS PLATFORMS
08-12-2015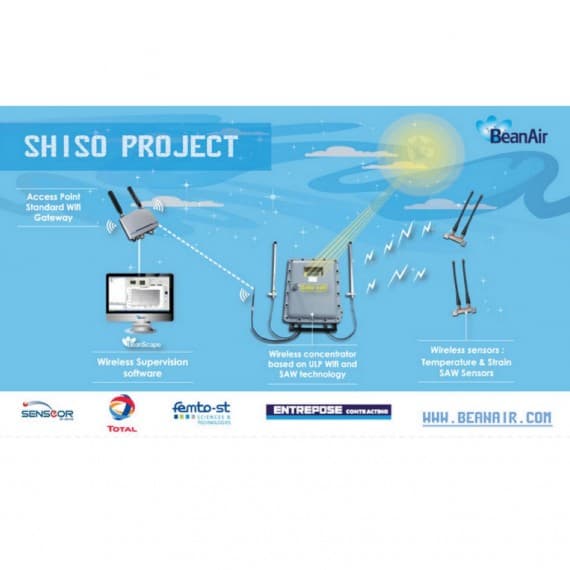 Bestech Australia exclusively distributes the BeanAir wireless sensor network (WSN) to enable real-time monitoring performance and environment.
These wireless temperature and strain SAW sensors which consume ultra-low batteries and are fully autonomous, can be used for up to seven years.
They are ideal for remote applications.
The new R&D project developed an integrated system that allows BeanGateway (data collecting via Ethernet or Modbus) /BeanDevice (wireless sensors: accelerometer, inclinometer, temperature, humidity & light sensor etc.) can operate without the internal battery.
The new ATEX/EX Zone 2 enclosure designed with a specific antenna coupler as show in the image makes BeanAir WSN suitable for ATEX site.
Wireless Sensor Networks used on the oil and gas platforms focus on monitoring the production process, to either prevent or detect health and safety issues or to optimise and increase production.
Areas wireless sensors can be used in a variety of applications including remote pipelines, corrosion, equipment condition and real-time reservoir status.
Key features:
Wireless & passive SAW sensors
·       Temperature and strain measurements
·       No battery, no energy harvesting, free from electrical risk
·       Robust and stable, compatible with harsh environments
·       Maintenance free, no need of re-calibration
Ultra Low Power Wi-Fi
·       Lower Total Cost of ownership – works with existing access
·       Easy provisioning & IT friendly: WIFI sensors use IP-over-Ethernet networking environment
·       Certi­fied IEEE 802.11 b/g Wi-Fi Low Power technology
·       Compatible with WEP/WPA/WPA2/WPS
Self-Powered system
·       Solar energy harvesting
·       Integrated primary cell for UPS functionality
Reliable alloy aluminium enclosure
·       IP66 Rating
·       Atex II 2 GD EEx d IIB Ex tD A21
Bestech
Ph: 03 9540 5117