BEACON BRAND MOVES INTO SECOND HALF-CENTURY WITH SOLAR FOCUS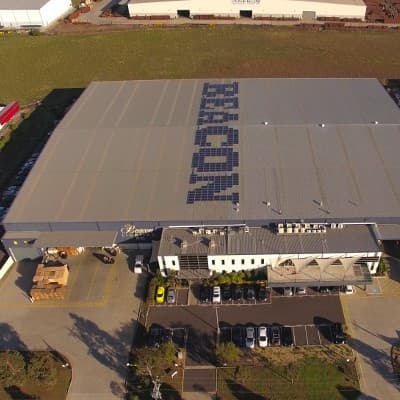 An iconic Australian brand has turned 50 this year. Beacon Lighting has celebrated the milestone, 50 years after the very first Beacon Lighting store opened in Prahran, Victoria in 1967.
The company's growth has been spectacular, and Beacon Lighting Group was listed on the ASX in 2014. There are now 106 Beacon Lighting stores around Australia, and the company has diversified into new markets with five Beacon Lighting Commercial offices, Beacon International and Light Source Solutions, its distributor business for GE globes and roadway lighting.
Energy efficiency has been a key aspect of the company's operations that has gained increasing significance, and Beacon Lighting group has been instrumental in introducing energy-saving technologies to Australian consumers. Beacon has been at the forefront of energy-efficient lighting, initially with compact fluorescent types and latterly increasingly so with LEDs. It has also developed further energy-efficient technologies in its ranges of ceiling fans.
Complementing this focus, the company set up its Beacon Solar operation in 2008, serving both domestic and commercial markets. The new venture made an immediate impact on the Australian market, with large numbers of satisfied domestic users and numerous high-profile commercial installations – including a large-scale installation on the roof of the Beacon Lighting National Distribution Centre.
Following growing success in the commercial solar market, the solar business switched its focus to be wholly commercial. The company offers access to finance services for commercial customers, and even offers the option of commercial power purchase agreements that enable companies to go solar with no up-front costs.
And now, Beacon Lighting Group is following its own advice by rolling out power purchase agreements to as many of its retail stores in its network as possible. Not only is this move reducing the company's power costs and environmental impact, it locks in a fixed power rate for the stores for approximately 12 years.
With spiralling energy prices threatening the livelihoods of so many Australian companies, the combined energy efficiency and power generation offerings of Beacon Lighting and Beacon Solar do seem to present a compelling argument.
And Beacon Solar is laying the groundwork for a continuing company history: not only do its solar panels and inverters come with full manufacturers' warranties, the company supplies all its commercial systems with a 25 year performance guarantee.
Beacon Lighting
www.beaconlighting.com.au
Beacon Solar
www.beaconsolar.com.au
Beacon Lighting Commercial
www.beaconlightingcommercial.com.au