BE ON THE SAFE SIDE WITH APPROVALS AND CERTIFICATION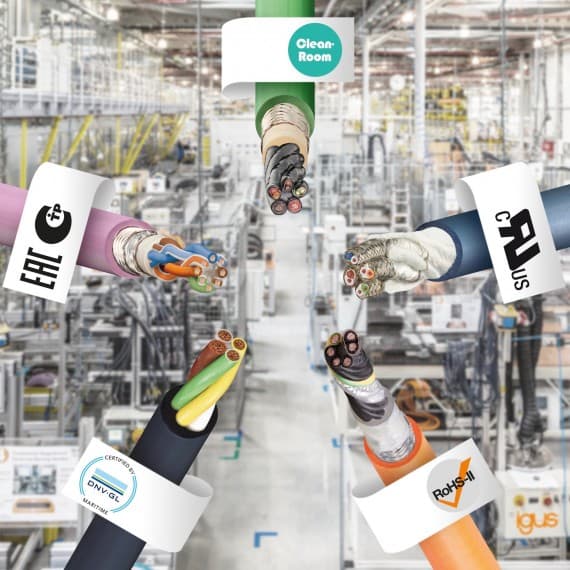 When purchasing components, country- or region-specific approvals such as UL (USA)/CSA (Canada), CTP/EAC (Russia) or DNV GL (Europe) are essential. The same applies to international guidelines such as EU's RoHS (Restriction of Hazardous Substances) or REACH (Registration, Evaluation, Authorisation and Restriction of Chemicals), which protect the environment and health. These standards set stringent parameters, which must be fully and demonstrably fulfilled before approval is granted.
Companies that buy cheap, unapproved components often get delayed or denied by customs during export and shipping to customers, costing time and money and negatively impacting their reputation and customer relationships. On the other hand, companies that buy approved, certified components, such as those in igus chainflex cables, will find their overall process becomes more efficient. For every metre of chainflex cables that the customer plans, buys and installs in their machines, a large number of approvals assure compliance with the rules, unrestricted reliability and a long service life.
Companies such as igus confront the high and dynamic market requirements through constant advancements in their in-house test laboratories. Chainflex cables for e-chains or robotic applications are tested for operational reliability in a lab covering more than 2750m2 of floor space, including a climate chamber, a noise chamber and a 130m-long travel or robot system.
igus's high standards can be seen in the figures: an average of 800 tests on chainflex cables, in parallel, adding up to more than 2 billion test strokes per year, and 63 test facilities, where just under 1.4 million electrical measurements are carried out every year.
This large number of tests and the results collected over 20 years now provide every customer with a clear answer to the applicability of their chosen cable for their specific needs. If the service life result does not fit or is too good, a less sophisticated alternative can always be selected. As a result, igus offers a guarantee for a chainflex cable for 36 months or 10 million cycles.
Due to igus's worldwide distribution, customers can source the same chainflex qualities on every continent in the world. Through 34 branches and 51 dealers (including Treotham in Australia and New Zealand), customers can order more than 1354 cables types without minimum order quantities or surcharges and without cutting charges.
All the customer needs is some time, because only then can the best possible choice be made from the huge assortment of cable types: 1044 with UL/CSA approval, 1023 with CTP approval, 1268 with EAC approval, 387 with DNV GL approval and 918 with cleanroom classification (classes 1 and 2).
Treotham Automation
1300 65 75 64
www.treotham.com.au