BARFEEDER SPEEDS SETUP, BOOSTS PRODUCTIVITY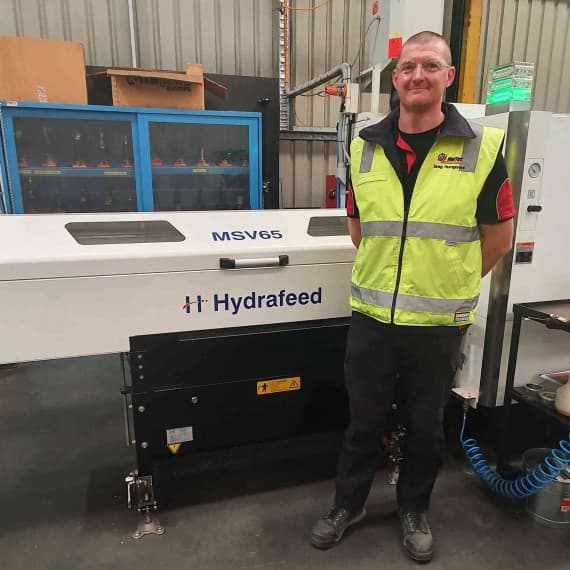 Maltec Engineering is a family business in Burnie, Tasmania, dedicated to providing state-of-the-art engineering services to clients across a broad range of industries including mining, food, agriculture, construction, forestry, and more.
Founded in 2002 by Lindsay and Kelly Malley, the company is a contract manufacturer specialising in CNC machining and small to medium fabrication.
"We make a lot of small turned products in high volume," says Maltec's Workshop Administrator Greg Humphries. "A quality bar feeding system allows us to maximise our machine throughput."
Although Maltec already had a couple of older barfeeders, when the company acquired its new Mazak Quick Turn 200MY CNC turning centre it was time to look at a new unit to complement the new machine.
Maltec has had a long association with Dimac having purchased soft jaws, gripper inserts, mist extractors and other products over the past 18 years. Dimac's Hydrafeed caught Greg Humphries' attention as it offered a number of features over and above the existing models, and so it was brought in to complement the new Mazak.
"The Hydrafeed is quick and easy to set up and helps us to remain flexible as we can run small batch jobs without excessive set up times," says Humphries.
"The ability to quickly set up the servo-driven backstop when processing multiples of non-bar-fed material is a real time saver compared to having to manually set up and fit one. Having the barfeeder mounted on linear rails allows us to move it out of the way and accurately return it to its previous position when machining longer parts or servicing the machine," Humphries adds.
The quicker setup time of the Hydrafeed barfeeder has allowed Maltec to increase its spindle on-time, allowing the company to make more products each day.
"The touch screen is clear and simple to read and operates well in our industrial environment. The menu system and icons are also easy to follow," Humphries adds.
While the performance of the Hydrafeed has been excellent, Dimac's customer service has also impressed Humphries: "Dimac contacted us to ensure that we understood what features were available and to provide assurance that any questions we had in regards to the machine would be answered promptly. They advised us on what would be required of us during installation and what training we would receive in the operation of the barfeeder."
"After the Hyrdafeed was installed we received a follow up call from the installers to ensure that the machine was functioning correctly and met our expectations. We have always received terrific service from the team at Dimac - reliable and timely service is important to us," Humphries says.
"The Hydrafeed has certainly lived up to our expectations. It's easy to use, has significantly improved our productivity and at the end of the day represents excellent value for money," he concludes.
Dimac Tooling
03 9771 6121
dimac.com.au