Bapcor: the unseen parts of every Australian journey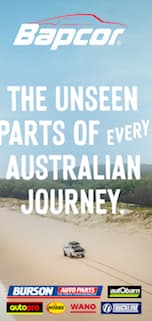 The past weekend saw the launch of a new campaign from Bapcor, Asia Pacific's leading provider of vehicle parts, accessories, equipment and service. The campaign, called The unseen parts of every Australian journey, focuses on the role the firm plays in the lives of ordinary Australians.
Coinciding with the opening of the Tokyo Olympic Games, the campaign takes viewers on a journey featuring the parts, products and services offered by Bapcor brands, including Burson Autoparts, Autobarn, Autopro, Midas, WANO and Truckline.
It's the first campaign created by the AJF advertising agency for Bapcor since its appointment as creative services agency last month.
Bapcor GM Brand Management, Frances Palmer said: "As Australia's leading provider of automotive parts, accessories, equipment and services, we wanted to demonstrate that Bapcor is a critical part of every great journey right across Australia, from the suburbs to the bush, from the top end to down south.
"With the launch of this campaign taking place during the Tokyo Olympics, we are excited to share the enthusiasm and passion for the quintessential Aussie road trip that all our customers share."
AJF Creative Director, Andy Jones said: "Over the years almost everyone in Australia has used one of Bapcor's brands or services, parts or products but they just may not have realised it. It was a key insight we discovered together.
"Working alongside the Bapcor team, it was a really fun job bringing the brand to life and showing the expansive nature of an Australian-owned and operated brand with over 1,000 locations and over 5,000 staff."