BAG IN A BASKET PROVIDES SAFE BULK TRANSPORT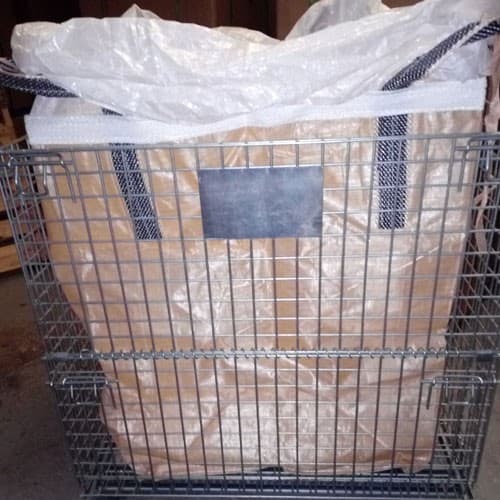 Pack King is expanding the flexibility of its Able Folding Mesh Container with the addition of a flexible intermediate bulk container (FIBC or bulk bag). The bag is placed into the Able Container, the corner loops are pulled down and zip tied to the mesh. This allows the suspended bag to be filled completely.
The zinc-coated wire mesh sides of the 1100mm square container provide ample protection during transport and storage. And fluted poly sheeting can be fitted between the bag and mesh sides and floor, if additional protection or security is required. A mesh lid is also available.
At its destination, the bag can be vacuum emptied, the contents scooped out or even upturned.
Pack King's Ron Mileham reckons the Able Container is "the perfect closed-loop transportation system for a one tonne bulk bag. The cage can be folded down to a 6:1 ratio and because they are pallet sized, the return freight space is maximised and the cost minimised," he says.
Pack King is also working on a system to track any Able Container using GPS, on a per-trip basis or on yearly contract.
Pack King
03 9720 0425
www.packking.com.au