Back to the future as supple, swift and silent actuators lend a hand to Industry 4.0 machinery
Actuators play an essential role in automation and Industry 4.0, providing the soft, swift and preferably silent force to grip, squeeze, lift, push forward, stamp, vibrate, convey and process material through the production chain from raw material input to finished product output.
But because they are often the last element of a digitally automated system, the one which provides a physical result, the type of actuator to be employed in a new system may not be considered until late in the process of designing it.
This may not be the best way to achieve the optimum outcome from new automation systems, or high-speed systems being upgraded. Our experience of more than 40 years in actuation suggests that the different types of actuator – pneumatic, hydraulic, electrical and mechanical – need to be considered early in the process to get the best results for any particular type of automation system.
Even though it is natural that production and process engineers should gravitate to actuation systems they know best, this can cost money up front and in terms of reliability – particularly in systems designed for wet or aggressive environments, ranging from minerals, resources and agribusiness product processing, through to the hygienic handling and packaging of food and beverage products.
And it is in these areas that engineers designing for production and process automation may find that the simplest solution to an actuation challenge can in many cases be is the best, because fewer moving parts and reduced complexity usually equates to more reliability with less wear and downtime. Sometimes a simple, compact and cost-effective actuation concept can also produce big initial savings, with easy mounting, no-maintenance performance and built-in hygiene.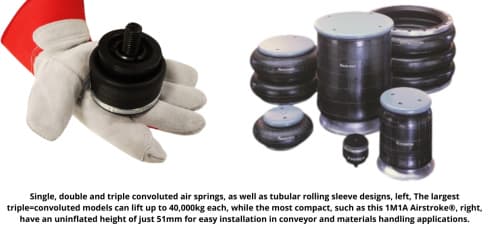 In this regard, Airstroke® actuators (and the structurally identical Airmount® Isolators) present an alternative to established thinking in Australasia, even though they are in widespread use internationally and their principle of operation has been proven for decades. Perhaps it is the very fact that they are so well proven that they are old hat to some engineers. But machine designers and producers could be overlooking the obvious if they did not at least go back to basics to consider air spring technologies for future-focussed high-speed, high-repletion actuation (and isolation) tasks for which they are uniquely suited. We don't pretend this particular form of actuation is ideal for every application (no actuator is that perfect), we do suggest they should be considered for actuation tasks they can do better, faster, with even pressure, more compactly, and cheaper.
What is an Airstroke actuator?
These flexible-wall, bellows-type air cylinders produced by Firestone are, in essence, tough, fabric reinforced rubber balloons of different shapes engineered to perform different tasks.
Structurally they are identical to the enormously durable and reliable Firestone air springs used as OEM equipment in the suspensions of huge trucks and semi-trailers plying our roads every day. This proven reliability under some of the worst conditions imaginable – like being continuously battered on Outback roads at extreme ambient temperatures – is what makes Airstrokes so tough. It's engineered into their DNA.
For many applications, including machinery and process actuation, a major advantage of the rugged simplicity of Airstroke air spring actuators is that they don't need the guides and seals found in traditional pneumatic cylinders that can wear and break. This difference is the key to many of their benefits in rigorous production automation environments, including stamping, forming, processing, vibrating equipment and conveying applications.
Their forgiving performance – they're easy to wash down and aren't affected by water or grime – reinforces their suitability for resources, food, beverage and primary production machinery and high-speed labelling, sealing and packaging tasks.
Airstroke actuators can be small enough to fit in the palm of your hand – or they can be more than a metre across and capable of producing 40,000 kg of force. Offering power strokes of up to 350mm, Airstrokes are powered by simple, basic compressor equipment found in nearly every factory They are typically used for high-force, low-stroke applications and for rapid cycle equipment.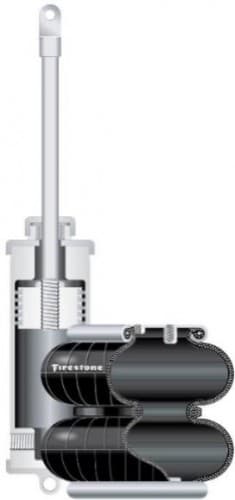 Capabilities and differences
Air springs have capabilities and limitations that set them apart from traditional metal-wall cylinders driven by the pumps and compressors in nearly every production plant. The very different appearances of the cylinders are illustrated at right. It is important to remember, however, that, regardless of their appearance, air springs are indeed cylinders – and that their performance has a critical bearing on the overall efficiency of pneumatic systems powered by pumps and compressors.
Most production and process engineers involved in manufacturing automation, materials handling, and motion control are familiar with the traditional cylinder design. It contains a piston sliding within a housing of circular cross-section connected to the work by a rod passing through one end of the device. This design necessitates several guides and seals, which align and seal the sliding surfaces. These allow a pressurised, contained column of fluid to apply force to the piston.
An air spring uses none of these components to contain and channel its column of fluid. This difference is the key to its functionality.An air spring contains its column of air in a fabric-reinforced rubber envelope, or bellows. The ends are sealed by bead plates, which are crimped around the bead of the bellows. These plates contain the attachment hardware for the part, normally a blind tapped hole called a blind nut. An air fitting, generally in one bead plate, allows fluid (air) to be introduced into the chamber. The fabric in the side wall of the bellows restricts radial expansion, so pressure is built up, causing axial extension.
Air springs are available in a variety of styles, sporting differing components that control the shape and path of axial extension, but their basic design is the same. In order to select the appropriate air spring, users need to know the force required to lift the mass, stroke needed and any special environmental concerns.
Applications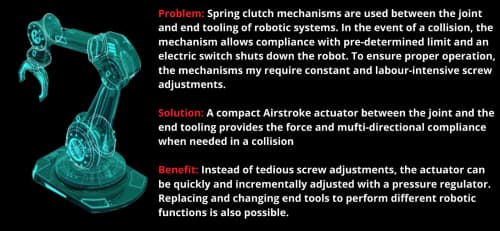 Globally, manufacturing and processing plants use them as conveyor components, ram cylinders, die cushions, counterbalances, clamps, lifters, valve operators, flexible connectors, shock absorbers and isolators.
 Australian and international uses have included:
·      Actuation of mineral processing, primary product and food and beverage processing machinery, particularly where resistance to aggressive, grimy environments is important
·      Conveyor stops and gravity gates; conveyor line actuation for direction changes and pallet handling
·      Belt take up and roller friction brake on conveyor equipment employed in process and packaging applications; skate wheel right angle gravity transfer section on a conveyor
·      Scissor lifts, gate valves and die strippers
·      Web and cable tensioning and roll changing on presses and production machinery
·      High speed stamping, clamping, forming, gluing and laminating
·      High frequency stress testing
·      Press counterbalances, including metal presses, paper sizing presses and forming presses
·      Isolation (by the structurally identical Airmount isolators) of vibrating screens, generators, motors and compressor equipment
·      Isolation of computers, cameras and vibration-sensitive quality and automation control technology,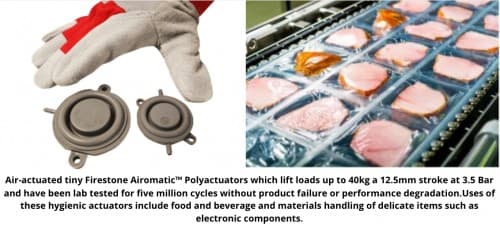 Benefits of Air Springs can include:
 Cost, as opposed to hydraulic and pneumatic systems when applying large forces. Sizes are available from under 80mm to more than nearly 1000mm (3in to 38in) in diameter, with low collapsed (deflated) heights. The larger sizes allow force up to 40,000 kg each using only 7 bar (100psi) air pressure. The capital cost of an air spring is normally less than half that of a pneumatic cylinder with equivalent capabilities
 Compact installation, side load flexibility and ease of attachment. Since the bellows bends, bead plates don't have to remain parallel, this significantly simplifies attachment, especially when the linkage is at an angle.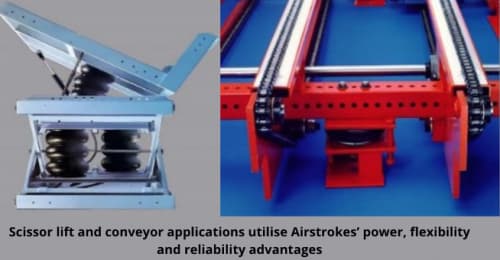 Constant force and durability as well as curtailed air and production losses through worn and broken seals. The lack of seals also means lack of friction. Air Springs outlast cylinders in most high-speed applications. They don't require lubrication and thus have a lower system cost. 
 Suitability for aggressive environments because of the lack of seal (but specifiers should always note that one critical component of an air spring is rubber. This must have good elongation, flexibility and abrasion resistance – factors which limit the choice of elastomers available. These determine the temperature and chemical compatibility of the product. Normally, users should keep air springs away from petroleum-based fluids and chemicals that attack rubber)
    And a bonus – not only are Air Springs Airstrokes ideal actuators for many applications, but the structurally identical Airmounts are also a highly efficient isolator. An air spring not only lifts, but also silently isolates an object. For instance, it can lift and support a vibrating load such as a shaker or vibrator without concern for wear on components. Isolation efficiencies frequently exceed 99 per cent – and without the deafening rattle of springs and the OH&S challenges it can present. As Australian states move toward more stringent workplace and environmental guidelines, this isolation capability is becoming a major factor in machinery design.
Would you like to learn more about the technology discussed in this exclusive report?
Readers can receive more information by contacting James Maslin at Air Springs Supply Pty Ltd, Ph (02) 8877 5500, fax (02) 9807 6979, sales@airsprings.com.au