BAC workbenches helping to train our future engineers and technicians
10-07-2014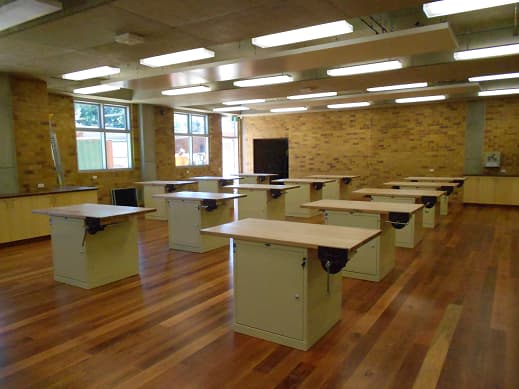 BAC workbenches are renowned for their strength and durability.
When combined with a modular BAC Drawer Storage Cabinet you create an efficient and functional workspace. 
Engineering and manufacturing companies around Australia are recognizing the benefits of BAC Workplace Solutions at their facilities.
With industry adopting BAC as the benchmark in workplace systems, it was only fitting that Technical Colleges and Universities would also consider BAC Workplace Systems to give students a real industry experience. 
Accordingly, over the last three decades, such trade centres have worked with BAC Technical Staff to develop state of the art workshops and laboratories. 
Recently, this has included the Automotive Training Centre at Ultimo TAFE, the Electrical and Environmental Engineering Departments at UTS, the Painting and Decorating Department of the Hunter Institute of TAFE and the TAFE South Australia Tonsley Park amalgamated facility.
It is not only at a Tertiary level that BAC Systems works with trainers of our future engineers and technicians. 
Amongst the many Trade Training Centres at the secondary level, BAC has recently worked closely with the TAS department of Daramalan College in the ACT to provide suitable engineering workbenches for the woodwork, metal-work and automotive departments.
TAS coordinator, David Kurthi, favours BAC workbenches for their durability. "They're unbreakable," claims Kurthi, "and you know they will be as good in 10 years time." 
Kurthi worked closely with the BAC Technical team over the duration of the project to ensure that the benches supplied were configured to suit each particular discipline. 
The resulting benches had custom drawer configurations and sturdy vices and the teachers appreciate how they make classes easy to operate.
Contact the BAC Technical team to discover how BAC Workbenches can improve your training facility.
BAC Systems
Ph: 02 9832 2777
Please see bellow for website