BAC workbenches help drive new Westrac facility
31-08-2010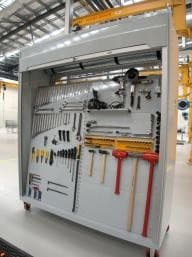 Westrac, one of Australia's largest distributors of Caterpillar Plant, recently opened a purpose built facility at Tomago, north of Sydney, to cater for all of its operations in the Newcastle region. 
With acres of specialty service workshops, Westrac has again turned to BAC Systems for quality workbench and tool storage solutions.
BAC Workbenches are built with durability and safety in mind. 
The heavy duty steel Benchtops supplied to Westrac have a 40mm timber core to minimise impact noise. And the steel has an extra folded return at the front to protect users from steel edges. 
The units are fitted with bracing bars for added stability and have been fitted with BAC Toolrack Panels on top of the Benchtop for individual tool displaying.
Communal Tools are stored in BAC Flightline Toolboards. These units have an incredible 7.4sqm of toolrack panels, complete with a large selection of specialty toolclips, partitioning posts and toolrack pegs. 
A large quantity of communal tools can be stored in location between a cluster of service bays. When the bays aren't in use, they can easily be locked away behind a transparent roller shutter. 
This system ensures that workers don't have to lose valuable work time walking across the vast distance of the workshop to check-out a communal tool from a centralised tool store.
The addition of the BAC Workbenches and Flightline Toolboards compliments the nature of the Westrac Workshop, lending to a clean and efficient work environment. 
Visit the BAC Systems website to find out more or contact the Technical Sales Team.
BAC Systems
Ph: 02 9832 2777