BAC unveils the latest in racking and shelving systems
31-08-2010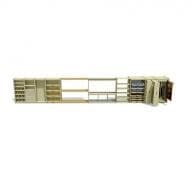 BAC Systems has a long tradition of Research and Development in the design and manufacture of its racking and storage systems.
Its extensive R&D not only answers the current needs of industry, it also anticipates its future needs. 
A BAC product release guarantees a new system or concept that not only caters for the timeless needs of storage and warehousing, but also forges ahead.
BAC's latest designs are destined to become standard practice in the future. 
Its latest product, the BAC "Series 77" Racking and Shelving storage system is no exception.
The Series 77 combines classical storage products with cutting edge storage concepts.
BAC Series 77 begins as a unique Pallet Racking System. It has been designed to both comply with Australian Standard 4084-2012, as well as to exceed the bounds of its envelope through the addition of Fully Enclosed Sidewalls.
This inhibits the flow of dust and also provides a protective barrier against falling objects, and through BAC's patented Gravity Safety Clips that prevent the accidental dislodgement of pallet beams through an automatic locking action.
BAC Series 77 is capable of more than simple pallet racking:
Pallet Racking for pallet storage
Long-Span Shelving for box and bulky hand-load storage
Dividable Steel Shelves for small box and geometric hand-load storage
High Density Drawer Storage for loose small part storage
Heavy Duty Drawer to hold full-sized pallets, up to 500kg UDL
Dispenser Rails with adjustable hooks for suspension storage
Vertical Drawers with shelves or BAC Toolrack
With so many different storage devices available in the single system, the potential becomes quickly evident. 
This hybrid storage system is flexible enough to cater for a large warehouse with uniform storage requirements, or to be used in a parts store with a few pallets, some long-span and some drawer storage requirements. 
Having the one system store everything can eliminate wasted space, increase efficiency, and look very attractive while doing so.
For more information or to arrange an inspection, contact the BAC Technical Sales team.
BAC Systems
Ph: 02 9832 2777