BAC SYSTEMS 77 SHELVING SYSTEM
26-07-2016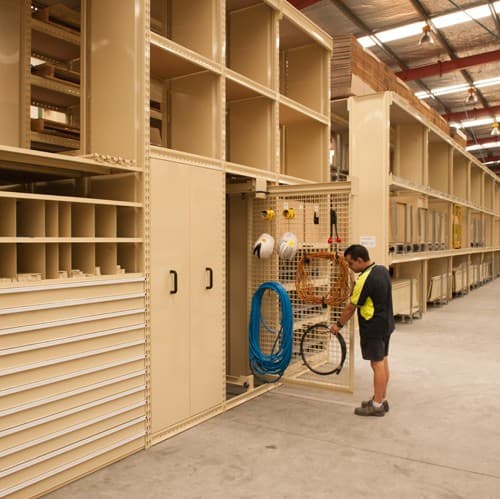 BAC Systems is probably best known for its award winning range of Drawer Storage Cabinets and Workbenches, but a lesser known fact is that BAC Systems has a very dynamic range of heavy-duty industrial shelving for all applications.
This system, known as the BAC 77 System, combines different types of shelving with BAC's world-famous drawers to create what is likely the world's most flexible hybrid shelf storage system.
The BAC 77 system starts as racking system and can be fitted with a quality pallet rack, a long span shelf or a mesh shelf with mesh separators. The shelves can be either the width of a single pallet or of two pallets in order to get best use out of your floor space.
What is unique about the BAC 77 is that you can fit the BAC Pallet Rack, the BAC Mesh Shelves and the BAC Long Span into a single bay using the one structure! This means that you can create flexible warehouse layouts, perhaps placing hand loaded items on the bottom and pallets up high, or whatever it is that suits your application.
BAC has a range of different drawer options to enhance the BAC 77 system. BAC's design-award winning high density drawers are a key element of the BAC 77, providing a solution for the storage of small or medium sized parts with minimal space wastage.
These drawers can be integrated in amongst the racking, ensuring that you can achieve an all-purpose storage system. Another drawer system that is part of the BAC 77 structure is the BAC Heavy-Duty Drawer. Available in two different sizes, the larger of which will accommodate a full-sized pallet, the BAC Heavy Duty Drawer can hold up to 500kg.
It can be loaded with a forklift or with an overhead crane and is popular in manufacturing facilities for this flexibility.
The BAC 77 system does not stop with racking and drawers. The system also incorporates a Vertical Drawer, which is a pull out shelving system, and a long pull-out rail, fitted either with hooks or a large mesh frame, that can be used for storing large and irregularly shaped items.
This modular system is so flexible, and can be assembled in so many different combinations, that a storage solution can be configured for nearly every application.
To find a BAC 77 solution to suit your particular needs please contact the BAC Technical Sales team on 02 9832 2777 or visitwww.bacsystems.com.au.