BAC SYSTEMS – IT ALL FITS TOGETHER
Company founder Walter Bachmann with the BAC Wall Storage System
Modular workplace and storage systems might not at first sight appear to be an Australian speciality, but one company has carved out a very special niche in this market.
BAC Systems is 40 years old this year. The company was founded in 1977 by the Bachmann family from Switzerland, and is run to this day by Walter Bachmann.
The company was incorporated in 1981, and moved to its current site in Glendenning, Western Sydney in 1988. The 2-hectare site is home to a workforce of 70 and 11,000m2 of office and floor space devoted entirely to the business of designing and manufacturing its modular workplace and storage systems.
And "modular" is a key word for the BAC Systems range. As Walter Bachmann puts it: "it's like Meccano or Lego, it all fits together and the pieces all talk to each other."
To describe BAC Systems' workplace and storage equipment as Australian Made is understatement in the extreme. The innovative designs originate from the company's own engineering office, and everything is punched, drilled, moulded, coated and assembled on site in Glendenning.
The main raw material is steel coil… lots of it. The company holds stocks of around 1200 tonnes of Australian steel coil, all sourced from BlueScope Steel in Port Kembla. And it's from this high-quality local material that BAC Systems manufactures its products, fabricating all the parts in-house, from the frames and shelves right down to the linear guides that give the end product such a feeling of precision engineering.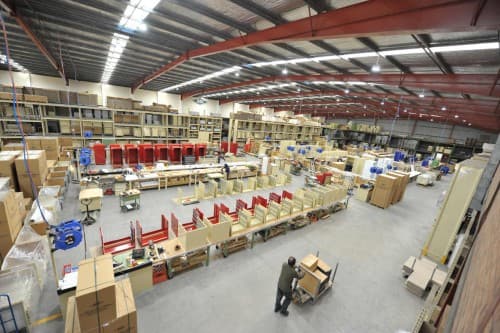 The assembly hall at BAC Systems Glendenning
Many of the processes have not changed for decades, although some parts of the products have evolved. Today, many of the trim pieces are injection moulded on-site, producing components that are every bit as strong as the aluminium formings they have replaced.
BAC Systems' products have developed a reputation for extreme ruggedness, reliability and long life. Indeed, Walter Bachmann can point to numerous companies in Western Sydney that are still using some of the company's original workstations and storage units almost 40 years on… and still going strong.
Says Bachmann: "We have always tried to provide products that people want to use. So if you're a worker and you get one of our workstations, you're going to love it."
But it's not all about tradition. "Innovation is the real key to the success of this company," says Bachmann. And BAC Systems continues to innovate, with new product offerings that answer market needs and provide features that add value in areas where others have not recognised the opportunity.
Take for example the new BAC Wall Storage System. In addition to the conventional round-hole pegboard design beloved by so many for organising workshop tools, BAC has added square holes to the new version, allowing users to integrate a whole range of new accessories. These include plug-in shelves for socket sets, drill bits and the like, all simply secured to the new square holes, making the Wall Board even more versatile for organising a workshop.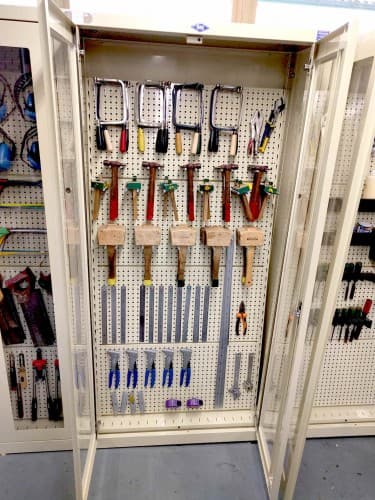 This continuing innovation, coupled with its reputation for producing high-quality, rugged and reliable equipment has seen BAC Systems prosper, both at home and abroad, with almost 20% of the company's output being exported.
Walter Bachmann acknowledges that there have been a few notable gains that have shaped the success of the company, notably becoming accredited by US construction machinery giant Caterpillar some 35 years ago. This accreditation has seen BAC Systems workstations and storage solutions sold into Caterpillar dealerships around the world.
But the company's success has not purely been led by engineering workshops. BAC Systems has also become a worldwide expert source for storage systems for museums and art galleries.
No doubt other markets will follow. As Walter Bachmann puts it: "If you're innovative in design, you have a market."
Integrated Wall Storage Panels in BAC cabinets with transparent doors
BAC Systems
02 9832 2777
www.bacsystems.com.au