AWARDS RECOGNISE HIGH STANDARDS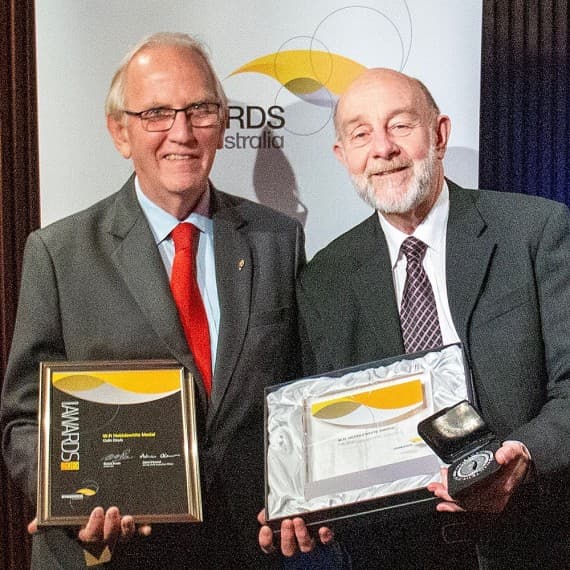 Richard Brooks, Standards Australia Chairman and Colin Doyle
At a ceremony in Melbourne on 30th May, Standards Australia announced the winners of its 2019 Standards Awards, which recognise and reward members of the Australian standards development community who make a positive impact in Australia and internationally.
The individuals and group honoured have led the development, review and updating of standards that make use of international best practice and new technology, and help improve overall access to standards.
"The Standards Awards are how we recognise members of our community who adhere to key values within the organisation around quality, community and innovation," Standards Australia Acting CEO Adrian O'Connell said.
"We're proud to work with some of the country's leading experts across a range of industries and the annual awards help us to celebrate their dedication and expertise. The work they do continues to position Australia as a leader in standards development, and helps us stay ahead of the curve on best practice, safety and new technologies."
The highest award, the WR Hebblewhite Medal, exemplifying leadership, technical expertise and positive impact, was awarded to Colin Doyle for his technical expertise and leadership over 50 years.
He has devoted a large portion of his time and expertise to some high-profile standards, including a number used by electrical safety regulators, a performance test standard for portable air conditioners, which has been adopted internationally, and the industry code for consumer goods that contain button batteries. This code works towards reducing the risk of death and life-threatening injuries to children.
The Innovation Award was presented to Evan Wong, the founder of Checkbox, whose business is creating new ways for consumers to utilise standards content. Wong is an entrepreneur who is showing new ways of thinking about how new technology can change the way we approach our work.
He is working towards evolving the static, content-heavy text formats of standards into an interactive and question-based version which guides the user through a tailored journey together with automated analysis, recommendations and instructions.
The Emerging Leader Award was presented to Dr Philippa (Pip) Ryan, Chair of the Blockchain Technical Committee. Ryan's ongoing work to further understanding and adoption of blockchain within Australia has continued to cement Australia's position as a leader in this new technology.
She has spearheaded global work, proposing the project that is leading to a comprehensive technical report and technical specification for smart contracts, as they relate to DLT/blockchain technology.
This work demonstrates the applicability of standards in new and emerging areas of technology and is a testament to the contributions Australians regularly make on the global stage.
The other winners were Trevor Tucker, Chair of the Gas Appliance Committee (Meritorious Contribution (National)), Agnes Tan, who is active on several committees in the areas of public health and food safety (Meritorious Contribution (International)), and the Fish Names Committee (Outstanding Committee).