AWARDS RECOGNISE FUTURE SUPPLY CHAIN LEADERS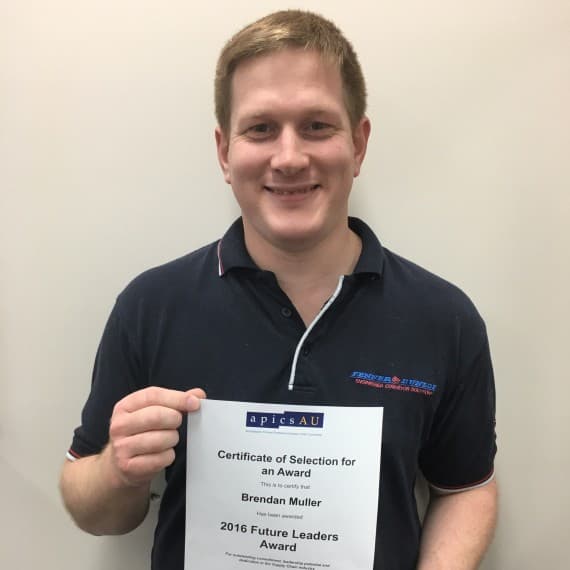 Brendan Muller shows off his award
apicsAU has named Noel Pearson and Brendan Muller as its Future Leader Award winners for their positive approach to their careers in supply chain.
According Dr Pieter Nagel, CEO, apicsAU, the award is chosen for the most outstanding individuals currently studying the APICS Certified in Production and Inventory Management (CPIM) course. He says: "By winning this award, students have shown the highest degree of dedication and greatest potential among all the students who are currently undertaking the CPIM through in-class attendance with apicsAU. This is a significant accomplishment and we applaud their effect and success in their course."
Each of the award recipients receives a training voucher valued at $1650 thanks to apicsAU's premier sponsor, Demand Solutions, and gives students the opportunity to expand their supply chain knowledge and professional growth.
Noel Pearson, is Finance Co-ordinator for Geodis, a freight forwarding and supply chain optimisation company based in Sydney. He has completed the APICS CPIM's first module, the Basics in Supply Chain Management, and is keen to progress through the certification to further his career in manufacturing. He says: "The CPIM course relates to my long-term goal of joining a leading manufacturing company. The Future Leader Award prize will fund the next module I need to complete."
Brendan Muller is in a support role in IT for Fenner Dunlop (formerly Apex) based in Melbourne. He has also completed two of the APICS CPIM modules and says that they have helped him understand the supply chain terminology which has led to better communication within his company. His advice for students commencing their CPIM certification is to listen to your peers. "Many of my peers had practical experience and gave relevant examples, which brought the course material to life. These discussions and interactions were something I found valuable."
apicsAU Life Member and Founder of Demand Management Systems the Australasian distributor of Demand Solutions, Lloyd Sheather, says that supply chain practitioners cannot afford to park professional learning.
"Professional learning is a daily requirement in the supply chain. We're pleased to foster continuous improvement for industry practitioners and support these gentlemen in developing their careers," he said.
apicsAU
www.apicsau.org.au