Award winning system from Demantic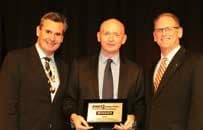 BIG W's distribution centre at Hoxton Park in Sydney has won The Award for Excellence in Supply Chain Management and Distribution at the Smart 2013 Supply Chain Awards.
The world's best practice distribution centre is the first of its kind in Australia.
It incorporates the most sophisticated array of materials handling and order fulfilment technologies and software to date in Australia.
Key among the many innovations is the first Dematic Multishuttle automated storage and retrieval system (ASRS).
The Dematic system buffers, sequences and delivers stock to the first RapidPick order fulfilment stations in the country. This enables a single operator to process up to 24 orders at a time.
Unlike conventional ASRS, which typically use cranes to access stock, Dematic's new Multishuttle uses a fleet of self-propelled carts to retrieve and put goods away in an ultra space efficient storage system, at very high speeds.
Lifts at the end of each aisle transfer goods in and out of the system via integrated conveyors.
At BIG W, the Multishuttle is equipped with 70 Multishuttle carts, capable of performing over 30,000 storage and retrieval cycles per hour.
At 89,000 sqm, Hoxton Park is the largest footprint distribution centre in the Woolworths network. The flow-through design DC is nearly half a kilometre long and about 200m wide – big enough to fit about 11 football fields inside!
Dematic Pty Limited
Ph: 02 9486 5555