AWARD RECOGNISES INNOVATIVE MAINTENANCE REGIMES
09-12-2016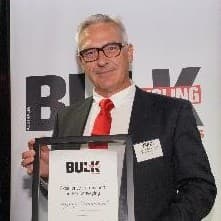 Schaeffler Australia Industrial Sector Manager Martin Grosvenor with the highly commended award
Schaeffler Australia has picked up a highly commended award in the Excellence in Transport and/or Conveying category at the 2016 Bulk Handling Awards. The award was presented in recognition of the company's innovative maintenance solutions for KCGM and Pilbara Iron.
Collecting the award, Andre Kluge, Managing Director, Schaeffler Australia, said: "I've been here less than a month, and already I'm seeing signs that impress me. To have two of our major maintenance projects receive the honour of highly commended is a great achievement and a testament to the hard work put in by the whole Schaeffler team here in Australia."
"Bulk handling is a sector where you just can't afford downtime, so Schaeffler strives to provide technologies that assist in making maintenance tasks more efficient and less costly," he added.
In an operation that eliminates downtime costing more than AU$45,000 an hour, Schaeffler supplied KCGM with a complete package consisting of custom-fabricated sliding sleeve housings and FAG spherical roller bearings for tube mill processing of output from KCGM's Kalgoorlie gold mines including the Fimiston Open Pit (Super Pit) mine and the Mt Charlotte underground mine.
At Pilbara iron, changing the conventional FAG spherical roller bearings on bucket wheel excavator drives to FAG split spherical roller bearings has cut maintenance downtime by 50% or more while reducing costs by eliminating complicated bearing replacement procedures in machinery and plant.
Schaeffler Australia
02 8977 1000
www.schaeffler.com.au