Automatic self-cleaning grate magnets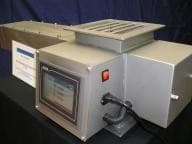 Self-cleaning … new grate magnets from Serpent & Dove
Grate magnets – an intrinsic part of all food, grain and powder handling industries for removal of unwanted iron – are now available in pneumatically-actuated, self-cleaning style.
With surface strength of up to 1 Tesla (10,000 Gauss) self-cleaning grate magnets from Serpent & Dove feature touch-screen control and adjustable cleaning cycle time.
Double rows with each row cleaned independently means no interruption to process flow and no reliance on manual attendance.
Complementing the Serpent & Dove Econo-Grate range, several standard sizes are available or custom sizes can be designed.
Serpent and Dove Pty Ltd
Ph: 02 9971 7577