AUTOMATIC LUBRICATION SYSTEMS PASS MUSTER IN NZ GOLDFIELDS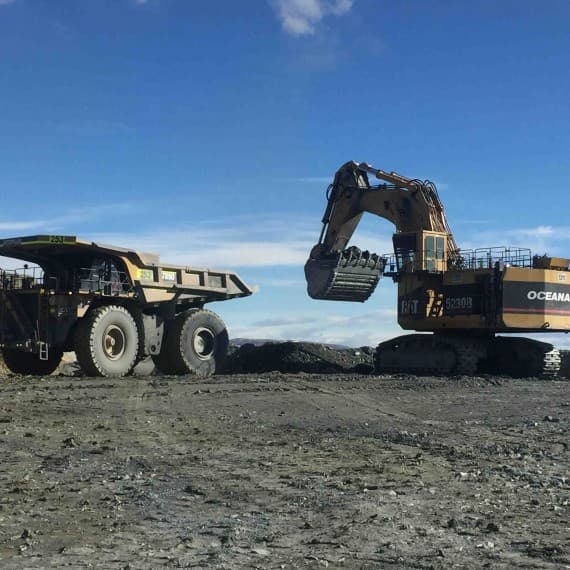 An audit by Hydraulink Lubrication of the efficiency and reliability of Lincoln automatic lubrication systems used at the OceanaGold Limited (OGL) Macraes gold mine has confirmed that such systems are good news for operators of heavy mining, construction and earthmoving machinery.
The audit involved a fleet of 17 CAT 789C and D model 300t-plus dump trucks, as well as Hitachi EX3600, EX1100 and CAT 5230 B Super Diggers used at the OGL Macraes mine in East Otago, which is New Zealand's largest gold-producing mine, yielding about two million ounces since 1990.
OGL also operates an underground mine at Macraes to complement the original open-cut operations and maintains its machinery in tip-top condition to maximise throughput, reliability and safety.
The large machinery on site is fitted with Lincoln Automatic lubrication Systems, for which Hydraulink is a New Zealand distributor. The lubrication systems allow OGL to obtain benefits such as optimised in-service times, reduced bearing and pin wear, greater safety, reduced lubricant waste and sustainability though reduced heavy maintenance tasks.
The audit – which all vehicles passed with flying colours – was conducted progressively over two separate weeks as the OGL maintenance staff made units available successively from its fleet. Most units came from the Coronation opencast site and two vehicles from the Fraser underground site.
Audits included each grease pump being tested, all the grease lines being removed from the injectors and the systems being run through a complete cycle, allowing the Hydraulink Lubrication Team to audit and record the efficiency of the system and determine the amount of grease being delivered to each grease point.
"It is imperative that machinery of this size get the correct amounts of grease delivered to the joints on a controlled and regular cycle," says Hydraulink's Murray Allen, NZ Industrial Manager – Sales and Service.
"This is vital for the reliability, lifespan and in-service availability of these huge and expensive machines, which are typical of machinery used throughout Australasia on mining, construction and infrastructure sites."
Some of the Lincoln Single Line Centro-Matic systems used in the OceanaGold Macreas application had been in service for up to 10 years. The audit found they were all functioning to an expected standard. According to Allen: "A couple of minor system adjustments where identified, but, other than this, all systems where operating to design specifications. OGL's level of maintenance was to a very high standard, thanks to the OceanaGold maintenance teams, who were invaluable in assisting us to organise the audits."
Murray Allen stresses that ensuring fixed plant and mobile machinery is properly lubricated keeps money in the pocket of owners and operators, because under-lubrication is a major cause of machine unreliability and downtime due to bearing and pin failure.
"Equipment failures due to inadequate lubrication of bearings and other moving parts result in costly repairs. Even more importantly, failures can curtail production and often lead to difficult repairs in the dark recesses of heavy machinery.
"That's why safety and efficiency-minded organisations, such as OceanaGold, are quick to realise the benefits of systems that automatically lubricate all friction points on mobile machinery at regular intervals while it's running."
Hydraulink
1300 36 37 34
www.hydraulink.com.au