AUTOMATIC LUBRICATION MAKES LIGHT OF MACHINE MAINTENANCE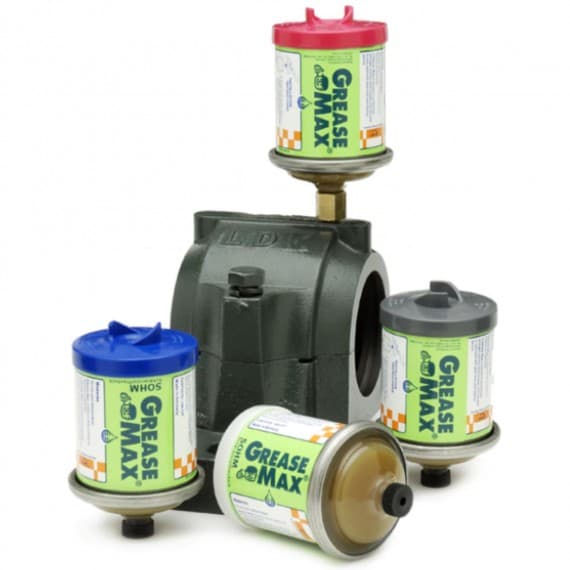 Nobody would ever deny the importance of proper lubrication in any form of machinery. Too little or too infrequent and bearings will suffer from the effects of friction, leading to heating, wear and eventual premature failure. And over-lubrication has its own set of consequences, which also include overheating, power loss, seal contamination and pollution of the workplace and its products (to say nothing of the costs of the wasted lubricant).
The solution to the problems of both under- and over-lubrication comes in the form of an automatic lubrication system, and there are many different versions available. Typical systems will involve a centralised reservoir of lubricant that is fed in a controlled manner to the various points requiring lubrication – including those that are difficult to access for manual lubrication.
Such centralised lubrication systems can be very useful in large applications, but they are relatively complex systems, comprising pumps and reservoirs, controllers, supply lines, metering valves and feed lines. And all the components of the system are potential sources of errors – particularly the mechanical and electrical elements.
One alternative approach comes in the form of the GreaseMax automated lubricator. This is a single-point lubrication system, with one GreaseMax unit applied to each lubrication point. They are generally applied directly to the lubrication point, but can also be used with feed lines in cases where the lubrication point is difficult to access.
The beauty of the system is that there is only one moving part in each GreaseMax unit – the plunger that forces the lubricant out of the canister.
The propulsion element comes from a precisely controlled chemical reaction that begins when the unit is installed and "switched on", forcing the plunger forwards and dispensing the lubricant at a constant rate.
GreaseMax units are available with various different grades of lubricants, depending on the application, and with a choice of lubrication duration – 1, 3, 6 or 12 months. Each is guaranteed to deliver a constant flow of lubricant for the duration specified.
This constant flow prevents contaminants from entering the lubrication point, whether it be a bearing or a seal, and over-lubrication is also avoided by the correct choice of unit.
At the end of the duration of the GreaseMax unit, it can simply be swapped out for a new unit, continuing the constant flow of lubrication. And, because each unit operates for a predictable period of time, the change-over can easily be scheduled to fit in with other regular maintenance activities.
Because of its simplicity of operation and lack of mechanical and electrical components, GreaseMax is highly tolerant of adverse conditions. This includes operating in areas subject to high levels of vibration, changes in atmospheric pressure (including operating underwater) and in varying temperatures.
In comparison, battery-powered electrical systems are particularly intolerant of environmental changes, with high humidity and daily temperature cycling leaving them susceptible to condensation that can play havoc with the control circuitry.
Continuous operation of GreaseMax at elevated temperatures will affect the discharge rate, but in a predictable manner that can be taken into account in specifying the correct unit for the application.
In addition to prolonging machine uptime and life, GreaseMax also plays a major role in plant safety, by reducing the need to manually lubricate live machinery. However, units can still safely be replaced with machinery still running.
GreaseMax is made in Germany, is TUV certified and has passed the requirements of all the relevant German safety authorities for both manufacturing and mining applications without restriction.
GreaseMax
03 9723 8600
www.greasemax.com.au