AUTOMATED SECURITY SYSTEMS SAVE AND PROTECT UBER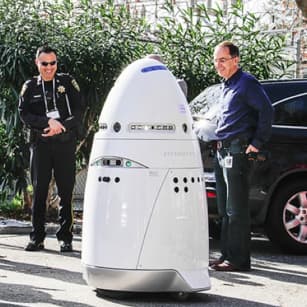 Robotic security mingles with human security. Photo Credit to Knightscope
Uber has carried out its plans to deploy a Dalek-esque security robot for its parking and inspection lot, and the results are intimidating.
There is very little chance that anybody is going to want to mess with the K5: A 136 kilo bullet-shaped security robot equipped with a stunningly large array of sensors.
It has 360-degree camera vision, thermal detection, laser distance detection, a weather sensor, a camera specifically for license-plate recognition, and four microphones.
With this suite of tools, the robot patrols the lot (a programmed-in geolocation) and keeps an eye (or camera) out for intruders. If anyone does break into the lot or tamper with the vehicles, the robot gathers data and sounds an alarm, bringing human security to the scene.
The machines are rented out from the creator company, Knightscope, at just $7 per hour. This easily undercuts (and perhaps outperforms) a regular patrol of security guards.
In an interview with fusion.net, Knightscope VP of marketing Stacy Stephens rebuffed the idea that the robots are glorified security cameras.
"That oversimplifies it, because there are so many sensors," he said, also adding that criminals were likely to be put off by "the gut-wrenching feeling of an intimidating physical presence".