AUTOHAUL TRAINS GO LIVE
05-10-2017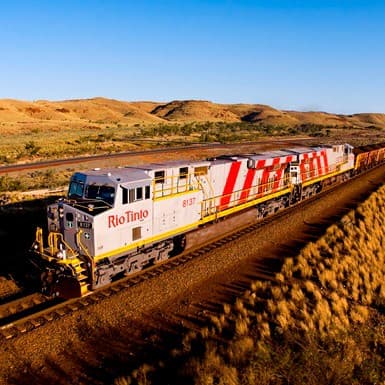 Driverless freight trains are being deployed in Australia, and while the testing and safety jobs created in the process might currently outnumber the jobs lost through automation, that won't last. 
Mining giant Rio Tinto's AutoHaul train just completed a 100km journey, hauling all the way from Wombat Junction to Paraburdoo on the west coast of Australia.
The train was entirely unmanned, monitored only at a distance by Rio Tinto's engineers and staff from Australia's rail safety regulator.
"This successful pilot run puts us firmly on track to meet our goal of operating the world's first fully-autonomous heavy haul, long-distance rail network, which will unlock significant safety and productivity benefits for the business," said Rio Tinto Iron Ore chief executive Chris Salisbury.
Many people assume that, as cross-country freight seems relatively straightforward, it would be easier to automate than city trains (and Sydney is already on track to have its Metro automated trains up and running in the next few years).
However, outside of a predictable city environment, things actually get more difficult. 
Rio Tinto iron ore chief executive Chris Salisbury said that "gains from AutoHaul are already being realised including reduced variability and increased speed across the network, helping to reduce average cycle times."
As recently as July, Rio Tinto had said that 20 percent of all train kilometres on pit-to-port runs were being completed in autonomous mode. However, train drivers were being kept on board as a failsafe.
This has now risen to "50 percent of pooled fleet rail kilometres [being] completed in autonomous mode (with drivers on-board)". 
Rio Tinto hopes to have 180 automated trains running when its Mine of the Future™ programme completes.