Auto dispense it with Pal-Tec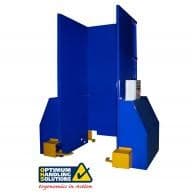 Eye for detail … the Pal-Tec PD20 Pallet Dispenser from Optimum
All PD20 Pal-Tec Pallet Dispensing machines now include an auto eye feature as standard. The auto eye allows the operator to remain on the pallet truck platform throughout loading, as the need to manually operate the machine to dispense pallets has been eliminated.
Optimum Handling Solutions designed the auto eye concept in response to requests from production mangers in the processing industry to make the dispensing machines more user friendly. 
The PD20 Pal-Tec Pallet Dispensing machine auto eye can detect when another pallet is required and automatically dispenses another pallet to replace it.
The operator of the PD20 Pal-Tec is only required to operate the control panel when it has been emptied and needs to be refilled.
Features include:
Air operated 
Front and rear dispense points 
Increased safety 
Simple connection to an existing air line 
Quiet 
Low maintenance. 
The PD20 is an ideal unit for pallet load out or packing areas where empty pallets are needed constantly or where fork lift access is limited.
Optimum Handling Solutions
Ph: 1800 066 008