Published 29-04-2021
| Article appears in April 2021 Issue
Australis Engineering acquires Brisbane-based Precision Stainless Systems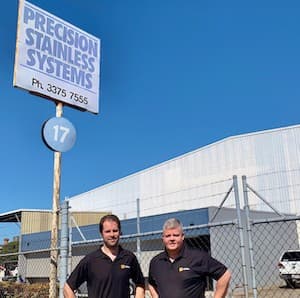 Brisbane-based conveyor and stainless-steel fabricator, Precision Stainless Systems, has been bought by Australis Engineering. The acquisition further adds to the Australis Group of engineering and conveyor related businesses co-owned by Sydney based brothers Peter and Anthony Gustafson and their parents. 
Precision Stainless Systems specialises in the steel fabrication of conveyors, machinery and equipment for food and beverage manufacturers and non-food FMCG goods such as pharmaceuticals, healthcare, batteries, pet foods and chemicals. Founded in 1996 by partners Trevor Higgins and Jeff Graham, the company has earned an outstanding reputation for manufacturing high-quality equipment, especially in the meat, raw foods and beverage sectors. 
Precision Stainless Systems proudly supports the made in Australia philosophy by manufacturing all of its machinery at its facility in Darra in Brisbane, where it primarily focuses on servicing the Queensland, New South Wales and Northern Territory markets. 
Precision will be the newest addition to the group, which includes Australis Engineering, known for its conveyors, pallet handling and robotics and automation capabilities; Profilium which offers t-slot aluminium profiles and linear guides and with representation in Sydney and Melbourne; and Advance Conveyors which specialises in conveyor systems, in particular roller conveyors and roller conveyor components. 
Australis Managing Director Peter Gustafson, says that the opportunity to purchase Precision was too good to pass-up. Precision have built an outstanding reputation for high quality fabrication of conveyors and other stainless structures such as special purpose processing equipment, tanks, walkways, platforms, troughs and other equipment, says Gustafson. "Their reputation in the fresh meat and food sectors means they have seen outstanding results over a long period of time. Their Queensland presence, coupled with their strong conveyor expertise offers strong synergies with the other businesses in the Australis Group," says Gustafson. 
Australis, which purchased Precision Stainless Systems for an undisclosed sum, plans to keep the Brisbane manufacturing facility operating as usual, and will retain all Precision Stainless Systems employees. Gustafson will take up the role of Group Managing Director. Recruitment for a Precision Stainless Systems GM has commenced and this role will work closely with Higgins and Graham who will remain in the business until at least December 2021 to ensure an effective handover and to maintain business continuity. 
The Precision, Australis and Advance businesses, Gustafson stressed, will operate independently but synergistically. 
Anthony Gustafson, Australis Engineering Director, says the synergy between Australis, Precision and Advance Conveyors revolves around the conveyor expertise that exists within each business. But beyond that, each business has its own strengths and all of the businesses will leverage these strengths to better service their own and each other's customers with increased capabilities and better capacity for a wider geographic service delivery. 
Australis will bring its extensive robotics and automation expertise to the other businesses, allowing Precision and Advance to offer everything from basic automation capabilities through to full turn-key robotic solutions rather than having to rely heavily on third parties for these capabilities. The addition of Precision Stainless Systems to the Group allows for a greater push into the fresh food market, especially in the meat and abattoir sectors and further increases the scale of local manufacturing capabilities by bringing its Darra facility into the Group. 
Anthony Gustafson says this couples nicely with the 2020 acquisition of Advance Conveyors that adds low-cost roller conveyors and conveyor component supply and fabrication and which is used in so many of the projects across the Group. This will benefit each business individually and in turn our clients through better response times, says Gustafson. Additionally, by adding Precision's Brisbane location, Profilium will soon be able to offer local QLD stock of t-slot aluminium profile and accessories to its large and growing Queensland client list.