AUSTRALIA'S FIRST HYDROGEN POWERED CAR UNVEILED
08-04-2015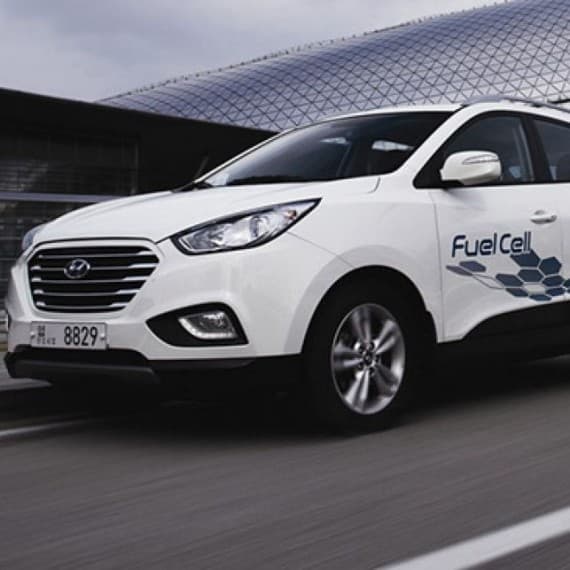 It's here.
Australia's first hydrogen powered passenger vehicle, the Hyundai SUV ix35 Fuel Cell, has arrived in Australia.
Industry and Science Minister Ian Macfarlane unveiled the hydrogen powered Hyundai at Hyundai Motor Company Australia's Macquarie Park headquarters in Sydney.
The launch coincides with the installation of Australia's first solar powered hydrogen refuelling station at Hyundai's headquarters.
"This is the first zero emissions fuel cell passenger vehicle to be brought to Australia, and it's another step towards diversifying Australia's future transport fuel mix," Mr Macfarlane said.
"Fuels like hydrogen can help to meet Australia's transport needs and lower our carbon emissions.
"One of the advantages of hydrogen is that it can be produced from water using a variety of energy sources, including renewable energy.
"These Hyundai Hydrogen Fuel Cell vehicles demonstrate the potential of hydrogen to fuel an environmentally sustainable transport option."
Hyundai has been manufacturing the ix35 Fuel Cell in South Korea since February 2013, the first company to mass produce a hydrogen powered vehicle.
"The ix35 Fuel Cell demonstrates the company's long commitment to innovation, stretching back to the production of the first Hyundai fuel cell vehicle in 1998," Mr Macfarlane said.
"The Australian Government supports hydrogen research through Australian Research Council funding.
"The CSIRO is also developing scientific capabilities and new technologies relevant to hydrogen, including research into membrane and separation technologies and the solar conversion of natural gas to syngas.
"This is another innovative example of the economic benefits from the application of science and research to an industry setting.
"We know more Australian industries can benefit from closer collaboration with researchers, to develop new products, new jobs and new export markets.
"The Australian Government is facilitating this type of collaboration through the five Industry Growth Centres which are being established in Australia's areas of competitive strength, including advanced manufacturing."