Australia's electronics industry turns out in force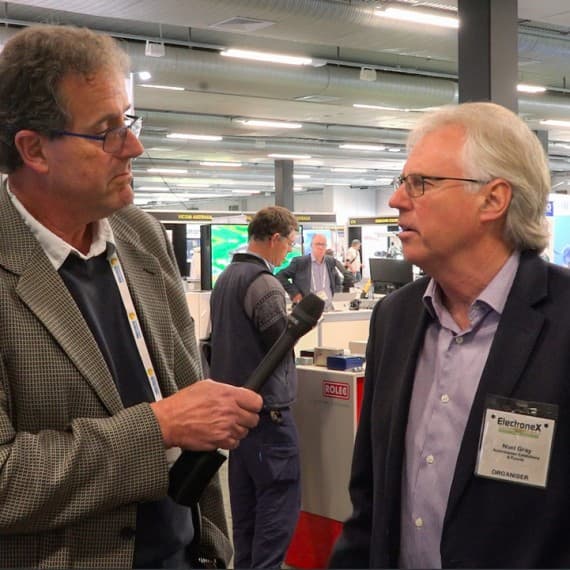 Noel Gray (right):"a clear sign"
The turnout at last week's Electronex show in Melbourne speaks volumes about the health of the electronics manufacturing sector in Australia. With Industry 4.0 and the IoT very much to the fore, the annual showcase for the nation's electronics sector made the giant leap into the Melbourne Conference and Exhibition Centre, and drew the visitor numbers expected at the prestigious venue.
This was the tenth holding of Electronex, and the largest to date, with 75 stands and representatives from more than 100 companies. And, as ever, the show benefited from the colocated SMCBA conference.
There was also a very well attended seminar series on the exhibition floor, featuring international speakers from Switzerland, the UK and Hong Kong (among others) alongside Australian industry experts. Seminar topics ranged from some very specific electronics industry design and manufacturing issues to the more general areas of Industry 4.0, advanced manufacturing and innovation.
However, it was the turnout on the exhibition floor that surprised, with respectable queues to register and crowds gathered around those stands with interactive exhibits.
Speaking at the end of the first day of the show, organiser Noel Gray was bullish about the future of both the show and the industry in Australia. "This is a clear sign of the key role of our niche and specialist manufacturers in emerging industries in Australia," he said.