Australia's Ambassador Visits SSI Schaefer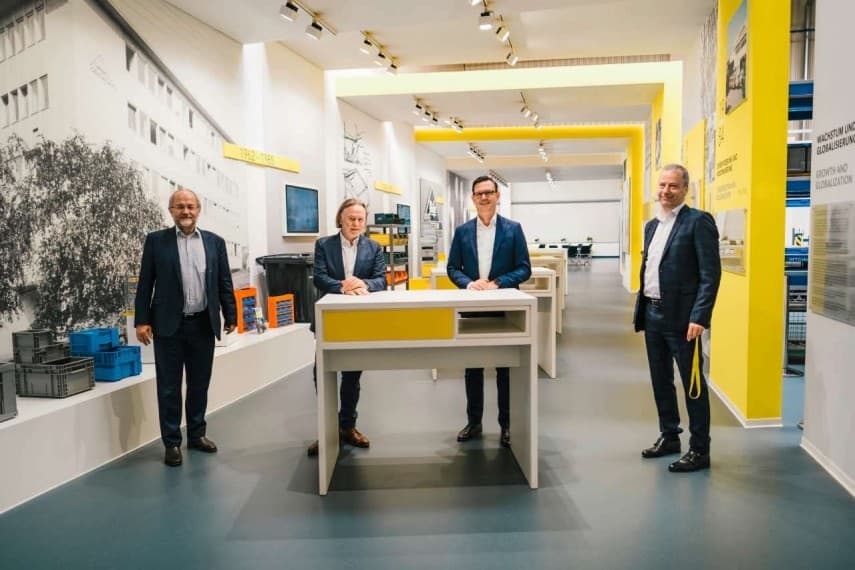 Philip Green OAM meets with the intralogistics experts
With the aim of bringing companies from both countries closer together and promoting productive exchange, Australia's Ambassador to Germany, Philip Green visited intralogistics expert SSI Schaefer at its international headquarters in Neunkirchen/Siegerland, Germany, last week. 
Ambassador Philip Green was invited by Volkmar Klein, Member of Deutscher Bundestag (MdB) and both were impressed by the innovative strength and traditional values of SSI Schaefer, a family-owned company. As a global, leading solution provider of modular warehousing and logistics systems, SSI Schaefer has been active in the Asia-Pacific region and especially in the Australian market for decades and has provided a wide variety of companies from many industries with individual warehousing systems and highly automated solutions. 
The region's high growth rates and the ongoing e-commerce boom, which has continued during the Corona pandemic, are leading to steadily increasing demand in Australia for high-performance logistics solutions and well-trained specialists to implement, operate and maintain the warehouse systems. 
Against this background, the increasing shortage of skilled workers was also discussed. Ambassador Philip Green is particularly interested in Germany's dual vocational training model. He would like to adapt this stronger practical orientation for the Australian market. Steffen Bersch, CEO, and Bruno Krauss, CFO of the SSI Schaefer Group, welcomed the joint exchange and opportunities for cooperation, as SSI Schaefer is always looking to increase their skilled workforce in Australia due to the strong demand. 
Investigating the concept of a trial run of dual training at SSI Schaefer in Australia as a possible option for fulfilling the future requirements for skilled workers was discussed. As Chairman of the German-Pacific Parliamentary Group in the Deutscher Bundestag, Volkmar Klein is promoting even more intensive cooperation. "Australia can be an important market for German companies. SSI Schaefer's experience shows how much potential there is in the region. It is an important sign that SSI Schaefer wants to intensify its own activities locally." CEO Steffen Bersch commented, "We will also continue to expand our international business in the Asia-Pacific region and are looking forward to a close and long-term cooperation with the Australian Embassy to promote dual training and beyond."