Australian Vinyls Sponsor Manufacturing & Best Practices category for Plastics Industry Achievement Awards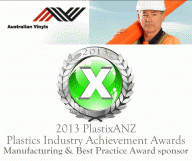 Australian Vinyls, Australia's sole manufacturer of PVC resin and the inaugural winner of last years' PlastixANZ Plastics Industry Manufacturing & Best Practice Achievement Award is proud to announce its sponsorship of the same category for the 2013 PlastixANZ awards. 
Adopting best practices in manufacturing makes good business sense. Best practice manufacturers are more efficient  in their ways of doing business, create less waste, have higher quality products and a lower impact on the environment.
Through adoption of best practices, Australian Vinyls has over the past 5 years reduced its energy consumption by 12% per ton of PVC resin produced, its greenhouse gas emissions by 17% and water consumption by 28%.
In our current tough business environment, manufacturers who adopt best practices in their industries will be the ones best placed to prosper when better times return.