AUSTRALIAN UNIVERSITY TEAM WINS INTERNATIONAL SPACE CHALLENGE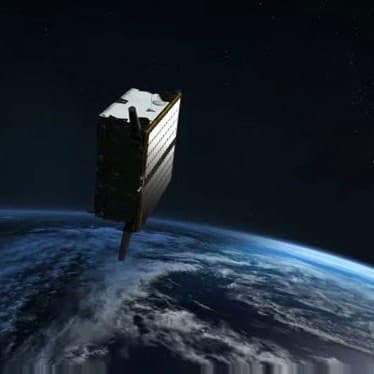 A team of researchers from the University of Adelaide's Australian Institute for Machine Learning has won an international challenge, hosted by the European Space Agency, to accurately determine the position of an object in space. They defeated teams from 47 other universities and space technology companies.
The teams were given individual high-fidelity images of the Tango spacecraft from the 2016 Prisma mission and were required to determine most accurately its 'pose' (relative position and attitude) in relation to an observer from close rendezvous. Knowing the exact situation of an object in space enables the refurbishment of expensive space assets and the development of debris removal technologies and space depots to facilitate travel towards distant destinations.
The Adelaide team was able to determine Tango's orientation using machine learning and 3D vision algorithms. They used the university's Phoenix High Performance Computing cluster to train their novel model from the data made available by the competition organisers.
Prof Tat-Jun Chin, the Institute's Director of Machine Learning for Space Engineering, says winning the challenge has strengthened the institute's reputation as a leader in developing data-driven solutions to space engineering problems.
"What sets our solution apart from the others is the unique combination of machine learning and 3D vision algorithms – these are two areas we have strong expertise in at the university at the AIML," he says.
Determining the orientation of an object is a long-term study problem in computer vision and AI.
"If you want to program a robotic arm to make coffee, you need to figure the orientation of the object with respect to the robot," he says. "We are now applying those techniques in space and we are one of the few teams in the world doing this."
Prof Chin says the knowhow generated through the competition will enable the team, who have an existing research partnership with Inovor Technologies and the Australian Defence Science and Technology Group, to further contribute to the goal of Space Situational Awareness (SSA).
Inovor Technologies is a South Australian startup that has developed an algorithm to stabilise control systems to keep satellites fixed in specific positions. The Australian Space Agency, also based in Adelaide, has identified SSA, which includes the task of mitigating the risk posed to space applications by space debris, as a priority area.
"SSA is traffic management," Prof Chin says. "Not only managing operational things that you can control, such as space assets and infrastructure, but the things you can't control, like space debris.
"It's about finding out what went where so the next time when you are launching a new space asset, or trying to change the orbital parameters of your current asset, you know it's not endangered through collision or other incidents.
"SSA has always been regarded an important capability, but it's becoming a more pressing issue because of increasing space commercialisation."
South Australia Space Industry Centre Chief Executive Richard Price says the team's win is further evidence that Australia is creating world-leading technology for space applications.
"This huge win will no doubt open doors for the team and create even more business opportunities in this exciting industry," he says.