Published 27-08-2019
| Article appears in August 2019 Issue
AUSTRALIAN PACKAGING PRODUCER ON THE INNOVATION FRONT FOOT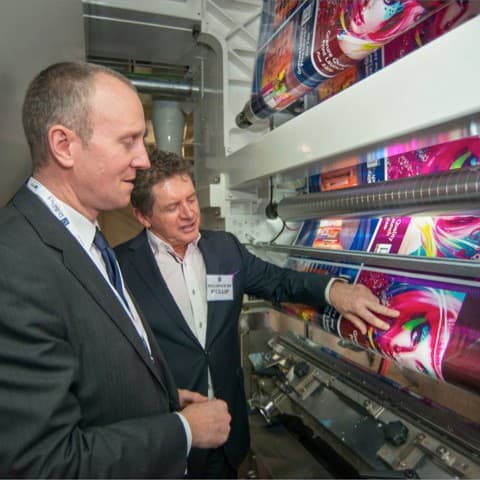 Since starting out 35 years ago in a modest office with two desks and a heater in the middle of winter in Melbourne, Phillip Rolls has grown RollsPack to become Australia's largest flexible packaging manufacturing business and a global leader in innovation.
Originally a plastic bag manufacturer, RollsPack's first major client was Just Jeans, producing the iconic red, blue and white bag for the fashion brand. The business now manufactures food packaging, security and tamper-evident bags for banks and couriers, and specialises in retail and e-commerce packaging.
The business is differentiated by its technology, with access to printing machinery that produces high-quality packaging that's unique in Australia.
"Food packaging uses different types of printing methods," says RollsPack Managing Director Phillip Rolls. "The US and Europe use a particular printing style, and Asia uses another. We have both, giving us access to the world's best photographic-quality printing."
The company expanded its operations to New South Wales and New Zealand in 2009. In 2016 it opened in China to access the European, American and Chinese markets and help reduce costs for their Australian clients.
"We originally set up our Chinese operations to service the domestic market, but we found that our Australian customers are often more price-driven. That's in contrast to the US, where customers are loyal to buying locally," says Rolls.
"If our customers are price-sensitive, we can produce in China with a longer lead time. If they need a fast turnaround, we can produce locally. Operating across several sites enables us to give our customers flexibility."
Rolls says being open to overseas growth is important – as is the ability to adapt. "We're now looking at the US and South America, but at heart we're still a SME with our main operations in Australia," he says. "We're a privately owned company and we'll stay that way because we need to constantly adapt to the market.
"When I started the business there was only one plastics manufacturer in Australia. No one was looking after the smaller companies or industrial packaging. Back then 25 per cent of GDP was created by manufacturing in Australia – that's down to 5-6 per cent today."
The digital revolution kicked off a change to the business. RollsPack left industrial packaging and focused on e-commerce.
"Online shopping changed the domestic market," says Rolls. "Bricks and mortar retail was dying. Everything went online and people wanted things 'just in time'. At the core of our business is agility and adapting to the changing market."
Those market changes include a direct focus on the environmental aspects of the business.
"We take the environmental impact of our packaging products seriously," says Rolls. "RollsPack encourages businesses to design more sustainable packaging and increase recycling. Our goal is to manufacture using 100 per cent recyclable materials by 2025, and for those products to return to the industry to produce things like injection moulding, bitumen mix, park benches and even flight runways."
It's that drive to innovate and be adaptable that has kept the business thriving. And the industry agrees, with RollsPack taking home seven awards at last year's Flexible Packaging and Label Makers Association Awards, including the coveted 'Best in show' accolade.
"Innovation is my number one priority," says Rolls. "I am constantly exploring how I can produce better quality printing and products. We can't benchmark against ourselves – because we're the only business of our kind in Australia we have to look to our global peers and stay on top of industry trends."
Phillip Rolls says building a partnership with their local Bank of Melbourne Relationship Director has been crucial to ensuring the business continues to succeed and grow.
"We want to remain an Australian-owned manufacturer, but it's a competitive global market," he says. "The costs to run our business in Australia are among the highest in the world, but we have to accept the challenge and continue to move forward.
"That's why we joined Bank of Melbourne – they were receptive to providing the facilities we need to support our growth. The key is our personal relationship with our banker. With bigger banks you're just a number; you're no longer a company trying to employ people and contribute back to the economy.
"I want to deal with people, and people want to deal with us. My banker is a real person, not just a big building in the city. He listened to our needs and established a unique partnership, which has become so fundamental to our business. We're so pleased with the way Bank of Melbourne provides banking services with modern thinking."
Working with business banking professionals who have a strong local knowledge of your industry can make the difference in the day-to-day running and the future of your business.
RollsPack
www.rollspack.com.au
Bank of Melbourne
www.bankofmelbourne.com.au/manufacturing