AUSTRALIAN OPENING SURPASSES GERMAN EXPECTATIONS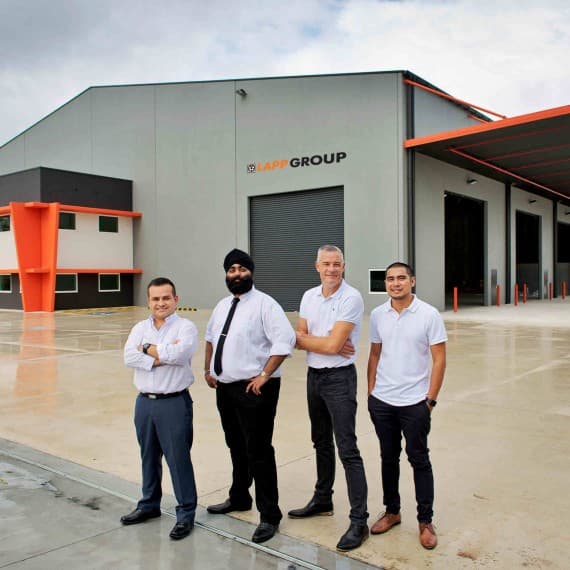 The Lapp Australia launch team have surpassed expectations
It's less than a year since Lapp Australia started trading, but the company has swiftly established itself in the local market, with significant penetration in sectors such as food and beverage, manufacturing, solar, sound and stage production, electrical contracting, machine building and automation.
When the company was officially launched in February 2018, the investment was seen as a vote of confidence in the Australian market from one of Germany's major suppliers of cables, interconnection and automation products. And that commitment has already paid off in the first nine months of trading.
According to Lapp Australia General Manager Simon Pullinger, business volumes have far exceeded first year expectations, with numbers of direct customer 40% above plan, monthly sales orders 35% above plan and overall revenue 45% above the plan.
Says Pullinger: "Although Lapp products have been in the Australian market for more than 30 years through the distribution network, setting up an Australian subsidiary has bridged the huge geographical distance of bringing the latest innovations from Germany to Australian customers far faster than before. And this has been really well received by the local market."
And that local market has expanded faster than even Pullinger expected. He says: "The year-one plan was to establish our position in the East Coast. But as we've grown so rapidly, the increasing brand awareness of Lapp's products means we are now supplying customers across all of Australia.
"Customers can deal with us by phone, email, live chat or simply buy online through lappaustralia.com.au. The website makes it easy for customers to buy online, access datasheets and pay via PayPal! And our freight partners ensure that all customers experience the same service, regardless of where they are in Australia."
Location helps, though. Lapp made its Australian home at a purpose-built 3100m2 premises at Eastern Creek, the fast-growing distribution hub of Western Sydney, with direct access to all major roads and links to the airport and Port Botany.
Starting with around 1000 stocked lines, the Lapp Australia HQ now houses more than 1500 product lines – a number that will grow beyond 2000 in the second year. It also houses some impressive machinery, giving it the ability to supply a variety of different cable types up to 37mm diameter ready cut and finished to precise lengths.
This, combined with the speed and flexibility of the Lapp Group logistics centre in Germany means that Australian customers have access to 40,000 Lapp products with lead times of 1-2 weeks from receipt of order.
The location has led to some interesting incidents that have left the folk at Lapp Group in Germany scratching their heads.
"Along with many customers who call in to pick up orders, we've had a few unusual visitors to the warehouse," says Pullinger. "We've had an owl taking up residence for an evening on top of the cable racking, a couple of snakes chasing lizards into the warehouse, a turtle and several kangaroos."
Nevertheless, Lapp Australia continues to grow. The initial sales, technical, customer service, logistics and marketing team of six has now grown to ten, with further recruitment planned. And while the company continues to perform ahead of its plan, it seems that Lapp Group's vote of confidence in Australian industry was not misplaced.
Lapp Australia
1800 931 559
www.lappaustralia.com.au