Australian Manufacturing Week, WHSS & Electronex outstanding success!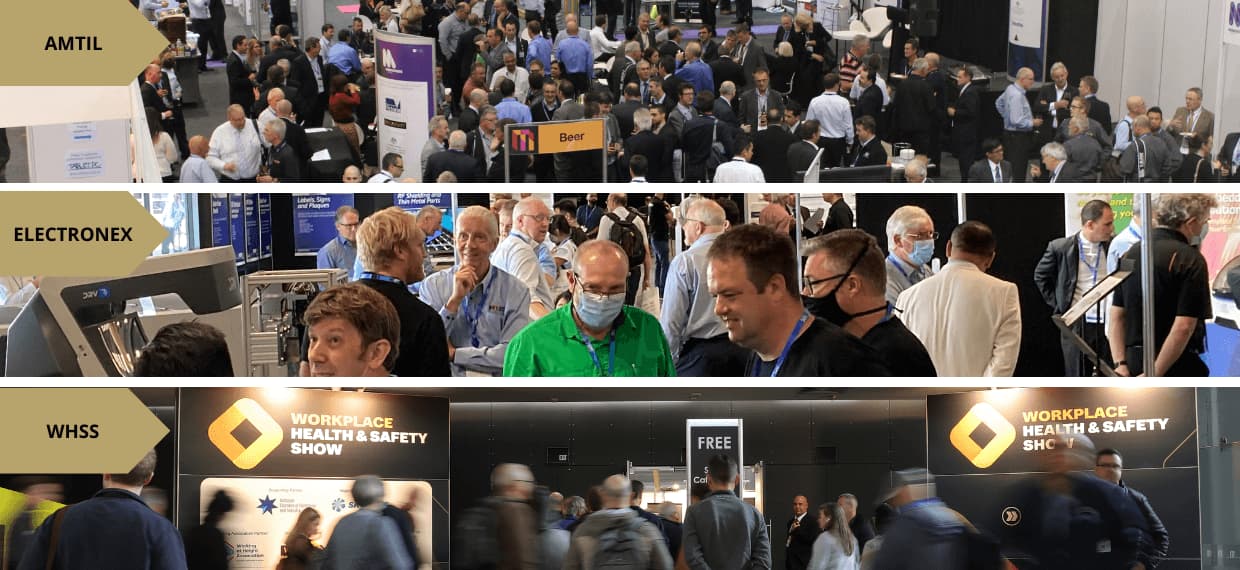 Sydney, 7 June 2022: The stage was set for a showcase of the latest manufacturing technology and cutting-edge innovation, as the inaugural Australian Manufacturing Week (AMW) exhibition took place at Darling Harbour in NSW. The show sprawled over 4,300 square metres in two halls at the International Convention Centre, over four days, with 170 exhibitors attracting 6,000+ visitors. This major trade show presented the latest manufacturing technologies, processes and support services.
Owned and operated by AMTIL, AMW is Australia's premier manufacturing solutions event. Under the theme 'Where technology meets innovation', AMW 2022 attracted larger crowds and exhibitor interest than expected. Floor space was almost entirely booked out well before the end of last year. AMTIL has operated Austech for over 20 years, Australia's premier advanced manufacturing and machine tool exhibition. The last Austech – held in May 2019 in Melbourne – was attended by industry professionals from across Australia and around the world, with more than 170 organisations showcasing state-of-the-art manufacturing hardware, software and support services. This year, Austech was incorporated into AMW, an exhibition showing off the latest innovations, technologies, and equipment in the advanced manufacturing sector in Australia.
Several major exhibitors had massive deliveries of machines that ran full-pelt during the exhibition. Robots welded and grabbed, 3D printers formed, sculpted and gathered. So many people visited, met and spoke with new connections.
There were several events running alongside the trade show, including one-day conferences for the Society of Plastics Engineers, the AMRF Manufacturing Technology Conference and an Industry Breakfast sponsored by William Buck Accountants and Advisors. There was also a networking event for Women in Manufacturing sponsored by Integra Systems and an Exhibitor and Visitor Happy Hour sponsored by Autodesk.
It can't go without saying that AMW 2022 has taken place during a period of resurgence for Australian manufacturing. The pandemic has reinforced the belief among the general public that a strong manufacturing sector is essential to our country's future prosperity. The industry has been quick to regroup and rebound from the initial shock of the pandemic. Despite subsequent outbreaks and lockdowns, it has maintained a steady upwards trajectory ever since.
AMW covered every aspect of manufacturing technology, from the largest assembly line cutting tools, down to the smallest medical, nanotech and aerospace additive manufacturing applications. State-of-the-art support systems, software and accessories were also featured.
There were six dedicated zones in the show, which included Additive Manufacturing; Australian Manufacturers Pavillion; Machine Tools & Equipment; Manufacturing Solutions; Robotics & Automation; and Weld Solutions.
This was an amazing weeklong celebration of all things manufacturing. Thank you Sydney! A special thanks to all the Exhibitors and Visitors who made this event a resounding success. Well done, thank you for coming, and we will see you in Melbourne next year for AMW 2023.
Electronex
AMTIL was held after Electronex 2022, a dedicated electronics show, which took place on April 5 and 6 at Rosehill Gardens Function Centre. The show was a success with over 1,000 trade visitors, delegates and exhibitors attending the two day show. 
Previously only held in Sydney since 1988, the Electronex exhibition will be held at the Melbourne Exhibition Centre, 10-11 May 2023, and will be co-locating with Austech and Australian Manufacturing Week. 
Workplace Health & Safety Show
The Workplace Health and Safety Show (WHSS), was also a resounding success, with more than 2,000 health and safety decision makers from different industries around Australia converging on Melbourne's Convention and Exhibition Centre on May 25 and 26, 2022.
The show was a live and interactive experience spanning two days and showcased the latest initiatives in the safety industry. Leaders in the sector shared their ideas on how to improve health and safety in workplace environments. 
Information was delivered in a personal and interactive manner, via an education series with seminars that are thought-provoking and informative. Participants heard about everything from mental health to changing safety regulations and new processes that will help shape the future of workplace health and safety.
Attendees also had the opportunity to try new products and services from over 100 different companies. 
International Exhibition and Conference Group (IECG) CEO Marie Kinsella said that Victoria is a hub for Australian industry and there is no sign of slowing down. 
She affirmed that businesses should prioritise safety within a constantly changing and evolving industry. This year's show saw the biggest innovators converge on the IECG, where they featured cutting edge technologies that will revolutionise how businesses report, monitor and assess safety risks. 
Industry Update Media is a media partner of all the above exhibitions and also participated at each event with a stand. IU publisher Scott Filby said, 'All the shows were outstanding events and incredibly successful. All three exhibitions looked fresh and vibrant, and everyone was so absolutely happy to be out and about again, which added life to the events'