Published 03-06-2021
| Article appears in June 2021 Issue
Australian Made Week brings home the benefits of buying local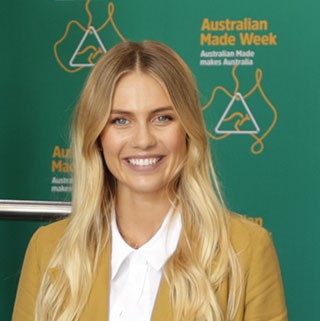 Below: Australian Made Week media launch: From left: AlphaFit Co-Founder Jamie Montesalvo, Australian Made Chief Executive Ben Lazzaro, Australian Made Week Ambassador Elyse Knowles and AlphaFit Co-Founder Bobby Montesalvo.
Entrepreneur, model, author and new mum Elyse Knowles kicked off the inaugural Australian Made Week at Gold Coast manufacturing business AlphaFit, urging shoppers to say 'g'day' to one extra locally made or grown product per week, to help boost the country's economy over the next 12 months.
Running from 24 May to 30 May 2021, Australian Made Week called on shoppers to actively focus their buying activities on genuine Aussie products carrying the trusted green-and-gold kangaroo logo.
Australian Made Chief Executive Ben Lazzaro said Australian Made Week helped Australians to focus their attention on the benefits of buying local after a challenging year for many Australian businesses.
"While Australia's over-reliance on imported products has been highlighted in recent times, it has also brought into sharp focus the many benefits of buying Australian. As a result, there has been a significant increase in consumer appetite for Aussie products," said Mr Lazzaro.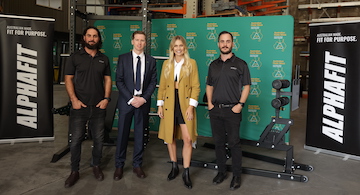 "When you buy Australian Made, not only are you getting products made to some of the highest standards in the world, you create jobs, now and into the future, and support thousands of Australians throughout the supply chain. Australian Made Week was a great opportunity to celebrate all the great things we make and grow, and commit to reassessing our shopping habits and prioritising Aussie products on a more permanent basis."
According to recent Roy Morgan research, if every household spent an additional $10 a week on Australian Made products, it would inject an extra $5 billion into the economy each year and create up to 11,000 new jobs. An achievable outcome, as 93% of Australians have a preference for Australian Made products.
Australian Made licensee and third-generation steel manufacturing business, AlphaFit officially launched the campaign at its Gold Coast factory. Co-founder of AlphaFit Bobby Montesalvo said Australian Made Week helped highlight Australia's world-class manufacturing processes.
"When it comes to purchasing Australian made, you know that if you buy AlphaFit Australian equipment, it's going to last," said Mr Montesalvo. "We hope that we get more people to consider the flow-on effects of their purchasing decisions. When they buy Australian-made products, they're supporting local businesses like AlphaFit and the people that work here."
There is an Australian option in nearly every product category ­­– from high-end health and beauty products to quality furniture and bedding, safe children and baby care items, through to tough building materials and world-class fitness equipment.
Australians are urged to look for the trusted Australian Made logo and support Australian Made every day.
Visit www.australianmade.com.au to learn more.