Published 27-04-2021
| Article appears in April 2021 Issue
Australian Made Week to break new ground in promoting Aussie products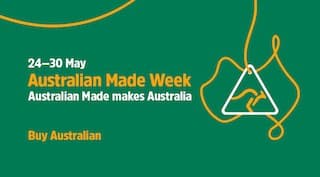 The "Australian Made, Australian Grown" logo has established itself as something of an industry legend, with the iconic green and gold kangaroo logo having now promoted Australian products for more than 35 years.
Ever since the roo's launch in 1986, nothing else has proudly signalled Aussie authenticity quite like it. Roy Morgan Research has shown it's recognised by 99% of Australians and trusted by 92%.
And despite closing in on middle age, that bold kangaroo isn't showing any signs of slowing down yet.
The logo is set to be centre stage in the inaugural Australian Made Week, an initiative to promote and celebrate genuine Aussie products.
To be held from 24 to 30 May, Australian Made Week will be a unique event with broad ranging promotional and informational approaches.
Buttressed by a multi-channel advertising campaign, the week will feature on TV, radio, out-of-home, print, online and social media. It is also backed by a curated PR campaign.
A central aim of the week will be to encourage consumers to consider the flow-on effects of their product purchasing decisions and remind them that when they buy Australian Made and Australian Grown products, they are helping to support local jobs, businesses and communities across Australia
A high-profile ambassador (yet to be announced) will serve as a popular figurehead for the campaign.
The new campaign is the work of the Australian Made Campaign Ltd (AMCL), the not-for-profit group which administers the famed Australian Made logo.
Australian Made partners and licensees will have plenty of opportunities to be involved in the unified push from Aussie industry to promote Australian Made products. For example, they might wish to run an Australian-made promotion in concert with the week.
They might want to get into the Aussie-made spirit on their social media pages, which could include sharing Australian Made Week content and using the hashtags #AustralianMade and #AustralianMadeWeek. They are encouraged to tell their own Aussie Made story.
AMCL is offering free assets for partners and licensees to use in marketing prior to and during Australian Made Week. There has never been a better time to apply for certification.
Customers are also encouraged to get involved with Australian Made Week and share the campaign hashtags, along with pictures of their Aussie Made purchases – don't forget to tag the Australian Made Campaign @australianmadecampaign and the maker too. Please encourage your friends and family to get involved. 
And there has never been a better or more important time to promote Australian products. With Australian manufacturing firmly in the spotlight as we cope with COVID-19, the community has been reminded of the national importance of supporting local jobs, industry and agriculture.
In celebrating and supporting genuine local makers and growers, the week will build on decades of goodwill towards the Australian Made logo, which is Australia's most trusted, recognised and widely used country-of-origin symbol.
By aligning products with the logo, businesses can visually demonstrate their Australian credentials. Applying the logo at point of sale, on packaging and promotional materials, and on social media and other online platforms, allows businesses to influence purchasing decisions, create brand preference and drive sales.
The logo is underpinned by a third-party accreditation system, which ensures products that carry the logo are certified as 'genuinely Australian'. When consumers buy Aussie made and grown products, they know what they are getting - products grown in our clean, green environment and made to the highest of manufacturing standards with a reputation for premium quality.
As a registered certification trademark of AMCL, the Australian Made logo can only be used on registered products that are certified as meeting the criteria set out in the Australian consumer law and the logo's code of practice.
Any individual, business or organisation that manufactures its products in Australia can apply for a licence. Licence fees vary depending on annual sales turnover from the relevant goods (expected first-year turnover for products new-to-market). The minimum is $300 plus GST for annual sales up to $300,000. It goes up to $25,000 for sales over $45 million.
Certification types include:
"Australian Made" means the product has undergone its last substantial transformation in Australia.
"Australian Grown" means all of the product's significant ingredients have been grown in Australia; and all or nearly all of the processing has been carried out in Australia.
"Product of Australia" means all of the product's significant ingredients come from Australia, and all or virtually all of the manufacturing or processing has been carried out in Australia.
"Australian Seafood" means the product is a seafood product, and all of the product's significant ingredients have been grown or harvested in Australia and all or virtually all of the processing has been carried out in Australia.
"Australian" is a descriptor only used in the context of export markets and the product must satisfy the criteria for at least one of the four claims above.
More than 20,000 products certified to carry the Australian Made, Australian Grown logo can be found on the Australian Made website, which can be searched by product or company name or product category.
To find Australian Made products or to certify your products as genuinely Australian, visit australianmade.com.au.