AUSTRALIAN MADE RETRACTABLE REELS IN DEMAND AT HOME AND ABROAD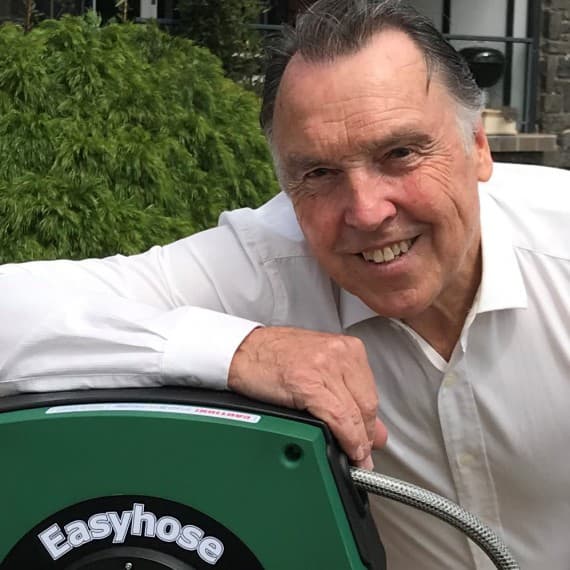 John Jones is proud of the reputation his company's products have achieved
The retractable reel has become a common sight in Australia, in both domestic and working environments. Typically used for hoses and the like, the retractable reel is not only a tidy storage solution, it also improves safety by minimising the length of hose exposed and thereby reducing the trip hazard.
One Australian company that takes the retractable reel very seriously is Melbourne-based AK Reels. Dubbed "the reel innovators", the company has applied its retractable reel design to a growing range of commercial, industrial, domestic and leisure applications, with the result that its Australian made reels are currently used in 13 countries worldwide.
Interestingly, it is not a hose that is the company's best-selling product. That accolade goes to the company's retractable safety barrier tape reel, which is used around the world in industries and areas where traffic management and safety are required. These range from mining to manufacturing and from airports to warehouses.
AK Reels Director John Jones is in no doubt why the retractable safety barrier tape reel has been so successful in a market where many cheaper imports are available.
"We find people are demanding quality products that are going to last," he says, "which might mean paying a little more in the first place, but, in the long run it's cheaper than buying the whole product over and over again."
Unlike the cheaper imported plastic tapes, which can break easily and are often single-use, AK Reels' tape is made out of heavy duty woven nylon webbing material, which is similar in strength to a car seatbelt.
"The imported products can be hard to handle and might work for a day or two, while our Australian made retractable tape reel might last you a decade," says Jones.
Such has been the demand for the safety tapes that AK reels has expanded the range so it now offers a suite of webbing tape solutions for all industries and areas where traffic management and safety are required.
The compact BC300 has the same range of tapes as the bigger RC reels and is generally used for factory doorways and delivery areas. The BC reels adds 5,10 and 15m coverage in a lighter more compact 3.5kg case. This complements the RC3000 Heavy Duty series, which covers 15-25m expanses. The much smaller still KC300 series of cassette wall mounted barrier tapes is for indoor uses only and will extend up to 10m in distance.
The longer length of the cassettes gives more options where shorter distances need to be sectioned off without having to buy several different size cassettes.
All of the safety barrier reels are now available with neodymium magnetic brackets. These are the strongest man-made magnets available and ensure the reels perform at their best. This innovation has expanded the uses of the reels by making them completely portable - ideal for trucking companies making deliveries where limited cordoning opportunities are available.
Not only are the mounting brackets magnetised but the catches too have powerful magnets to hold the tape in place where solid metal fixtures are available. In warehouses the magnetic cassette and BC reels mount easily on racking systems to control loading and unloading of stock.
Service vehicles in mining sites require safety barriers around tyre changing areas in the field. The magnetic reels have solved this problem and maintained safety requirements.
AK Reels also manufactures a large range of highly durable retractable hose reels for industrial and domestic applications – all made to suit particular purposes and to withstand variations in temperature and conditions.
These range from hot wash hose reels for the food industry to drinking water hose reels for recreational vehicles using food-grade plastic hoses. Other industrial hose reels cover welding gases, chemicals, oil and pneumatics.
According to John Jones: "We've developed a reputation for high quality niche products, and local manufacturing is critical in ensuring quality control."
And AK Reels continues to innovate. For example, the new magnetic brackets have also opened up portability options for all the reels that have traditionally been fixed in place. Air hose reels, water reels or any of the RC range can now be fitted with the heavy-duty magnetic brackets.
The innovation extends to the domestic scene with the release of the company's Designer garden reels, available in a choice of colours to match the customer's outdoor colour scheme. The hoses used in the Designer garden reels are also new.
"We believe it was the first woven and knitted hose line for outdoor use made in Australia," says Jones. "This hose is by far the most advanced of its type in the Australian market and exhibits superior kink resistance to standard hoses."
John Jones is quick to acknowledge the advantages of signing up with the Australian Made Campaign: "The Australian Made logo helps us to readily communicate our reputation for quality to new customers because manufacturing standards in Australia are so high," he says.
He admits: "We've had our ups and downs over the years – as the Australian dollar has had its ups and downs – but through the dedication of our staff we've managed to pull through, and we're very proud of the reputation our products have achieved."
AK Reels
03 9460 4455
www.akreels.com.au