AUSTRALIAN MADE CAMPERS SET STANDARD FOR QUALITY AND RELIABILITY
08-05-2018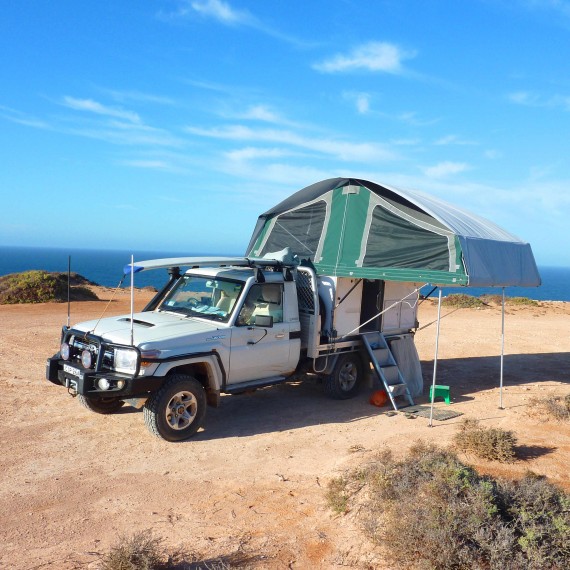 Camping is one of Australia's favourite pastimes, and Trayon Campers has been helping Aussies camp their way around Australia for almost 25 years. The company prides itself on understanding exactly what it takes to explore the roughest of landscapes with a camper.
Since 1994 Trayon has been handcrafting its lightweight freestanding tray-back ute campers for adventurers who want to travel to some of the most remote areas around Australia and the world. The company uses only high-quality Australian materials and experienced local staff to build its slide-on campers at its base on Queensland's Sunshine Coast.
While the idea of a camper on the back of a ute may seem to be a particularly Australian concept, Trayon's campers are not unique, and there are competing brands from outside Australia.
However, the company is quick to point out the Australian Made advantage, and has become something of an evangelist for the Australian Made Campaign, using the logo to help convey its story to its customers, and instil trust and credibility in the Trayon brand for first-time buyers.
Vernon van der Walt is Manager of Trayon Campers. He says: "Australian products are subject to high standards for build quality, safety and product testing – higher than many other countries around the world."
"The Australian Made logo provides added assurance that products meet those standards, because they need to be certified to be able to carry it."
"Furthermore, when it comes to a high-risk product like a camper which you really need to be able to rely on when you're far away from home, the security that comes from knowing the product is Australian Made, to last, offers great peace of mind," he adds.
Comparing the warranties provided by domestic suppliers against their international competitors, van der Walt says Australian manufacturers have the advantage, because importers simply cannot match the ease of access to support and product services.
"Trayon has contacts for help based all over the country, and when you're deep in the Outback, being able to rest easy in that knowledge is extremely valuable."
Vernon van der Walt is also keen to highlight the bigger picture, including providing the local community with employment opportunities, and helping to retain and develop the specialised skills required to make a camper in Australia. And he reckons the Australian Made logo helps showcase that side of the business too.
"If you buy one Trayon slide-on camper, you are helping to employ around 190 Australian workers, for different amounts of time, over a two and a half month period," he says (including those employed by Trayon's suppliers).
"By retaining these jobs, we are fostering a strong and unique Australian skill base and contributing to a successful, robust economy."
Trayon has certainly played its part in developing the economy. Late in 2017, the company celebrated the delivery of its 1000th ute camper, and acknowledging that its customers do occasionally find themselves in unfortunate situations in the middle of nowhere, donated all the AU $40,500 proceeds from that sale to the Royal Flying Doctor Service.
Trayon Campers
07 5476 5355
www.trayon.com