Published 13-10-2020
| Article appears in October 2020 Issue
Australian Made campaign gets a revamp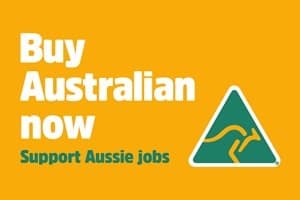 The Australian Made Campaign Ltd has launched a new initiative encouraging Australians to back local makers and growers and buy Australian-made products in the lead-up to the festive season.
The campaign calls on all Australians to "Buy Australian Now and support Aussie jobs" and dovetails well with the initiatives in the federal government's $1.5 billion manufacturing package and support for business within the budget.
An extension of the "It's never been more important to Buy Australian than right now" initiative launched in June, the campaign seeks to impact the purchasing decisions of Australians to drive support for Australia's manufacturing industry and local jobs.
Latest figures from the Australian Bureau of Statistics show the unemployment rate in August was at 6.8 per cent with 921,800 Australians out of work and a further 11.2 per cent underemployed. Manufacturing now employs 843,900 people in Australia, a drop of 50,000 since the start of the COVID-19 pandemic.
The "Buy Australian Now" campaign encourages Australians to exercise their preference for locally made product through a range of TV, radio, out-of-home, print, online and social media ad placements.
Australian Made chief executive Ben Lazzaro sees a thriving manufacturing sector as critical to Australia's economic future and prosperity.
"It continues to be a tough year for some of our Australian manufacturers and growers, so rallying behind these businesses is essentially one of the most Australian things we can do," he said.
"Every dollar spent on locally made and grown products has a direct impact on the livelihoods of Aussie growers and manufacturers, as well as the wider community."
Recent Roy Morgan Research found that 99 per cent of all Australians are aware of the Australian Made logo and 92 per cent trust the logo as an identifier of genuine Australian products.
Nine-seven per cent of Australians associate the logo with the support of local jobs and employment opportunities, 95 per cent with safe and high-quality products, 89 per cent with the use of ethical labour and 78 per cent with sustainability.
Go to www.australianmade.com.au for a comprehensive directory of genuine Australian products.