AUSTRALIAN-MADE BIONIC SPINES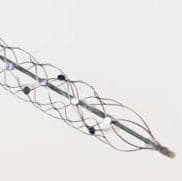 Non-invasive solutions to paralysis will only carry us so far: perfecting the art of repairing or replacing damaged spinal nerves could be the next step. In Melbourne, researchers have been refining a technique they modestly refer to as "the holy grail for research in bionics."
Professor Terence O'Brien and a team of 39 neurological and biomedical engineers are working on the implant: a small stent that, when inserted through blood vessels directly into the motor cortex, can transmit brain signals wirelessly to a leg-based exoskeleton.
If successful, it would allow paralyzed patients to control robotic limbs without being strapped or implanted with wires and electrodes.
Being inserted through the blood vessel allows the stent to easily reach areas of the brain (which contain many blood vessels), and avoid the tissue rejection of foreign material that usually occurs with implants.
Human trials are set to begin next year, in the Austin Health's Victorian spinal cord unit. Hopes are high that the procedure will restore considerable mobility into paraplegic patients.
O'Brien also has hopes that the stent implant could be used in the future to assist in fully neurological disorders, such as Parkinson's Disease, Motor Neuron disease, or epilepsy.