Australian govt unleashes $10bn into submarine manufacturing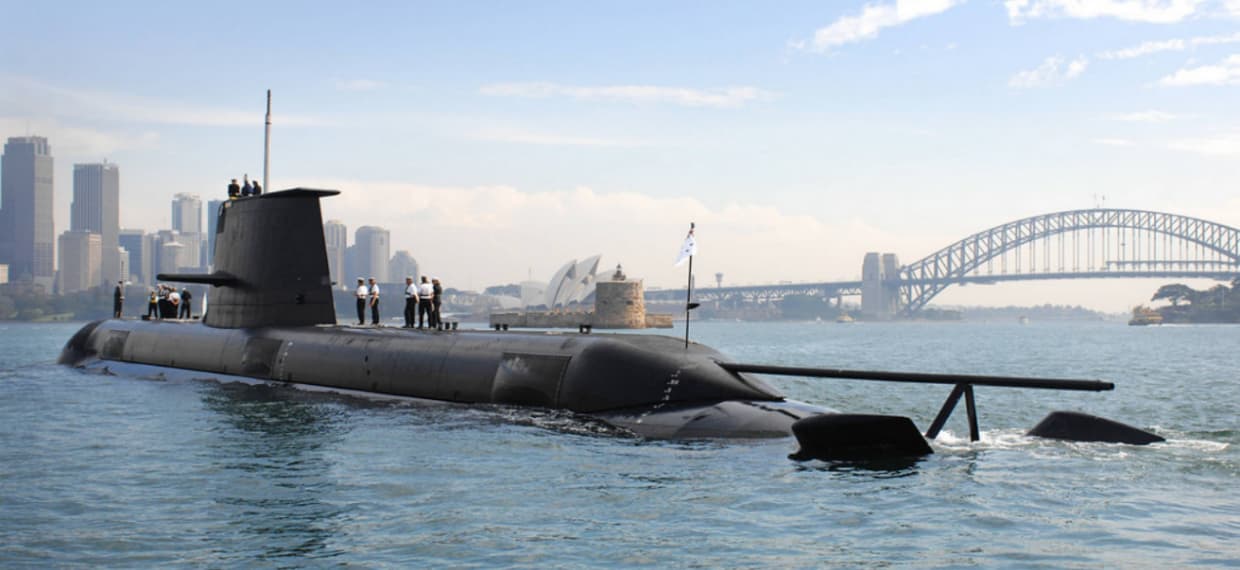 While calling on China to stop the Russian invasion of Ukraine, Prime Minister Scott Morrison launched a $10 billion plan to build a naval base between Wollongong and Brisbane where Australian, American and British nuclear-powered submarines will operate.
"China has long claimed to have a role as one of the major powers in the world and to be a contributor to global peace and stability. No country will have a bigger impact on concluding this terrible war in Ukraine than China," Morrison said in response to a question after a speech at the Lowy Institute think tank. "I was listening for the voice of the Chinese government when it came to condemning the actions of Russia and there was a chilling silence," he said, adding that China has also declined to call the Russian attack on Ukraine an "invasion" while asking western countries to respect Russia's "legitimate security concerns". 
The comments were made in a speech to the Lowy Institute yesterday, when Morrison first declared the international rules-based order to be under assault, before advising that the construction of the new base, which will operate parallel to the existing Indian Ocean submarine base in Stirling, Western Australia.
Nineteen sites were reviewed by the Defence Department, a list that has been narrowed down as the home of the new submarine base to include Port Kembla in Wollongong, Newcastle and Brisbane. The submarine base plan has been in the pipeline for some time.
Fast-track subs acquisition
This news followed Defence Minister Peter Dutton's revelation on March 6 that the government would fast-track by almost a year its decision about which nuclear subs to buy under the AUKUS security pact with the US and Britain. 
"We face the spectre of a transactional world, devoid of principle, accountability and transparency, where state sovereignty, territorial integrity and liberty are surrendered for respite from coercion and intimidation, or economic entrapment dressed up as economic reward," he said.
"None of us want conflict. We want peace and stability. But nor do we want the very world order that underpins our freedoms to be eroded for fear of giving offence, in the vain hope that concessions will ameliorate the determination of those who seek to intimidate and coerce. Events are now lifting the veil. Perhaps the scales are beginning to fall from the world's eyes also. At least I hope so," he said.
Pre-election budget
While consultations will begin immediately with the NSW and Queensland governments, a final decision on a site won't be made until the end of 2023. Morrison explained that a problem with the west coast base was the recruitment of submariners and support crew. He said that an east coast base will make this easier.
The $10 billion will be part of boosted defence spending to be unveiled in the March 29, pre-election budget. There is also expected to be a considerable boost to enhance cybersecurity.
According to Morrison, the Ukraine invasion has been a wake-up call for Europe, economically and strategically, and the solidarity shown by Europe against Russia "should give us renewed confidence to assert that those who wish to overturn the global order through violence need to think again".
Morrison added that hopes have been dashed that "regimes" [subtext China] would moderate their behaviour and reform themselves as a consequence of being part of "well-motivated" international institutions.
"Just as open markets and liberal democracies have enabled hostile influence and interference to penetrate into our own societies and economies," he said. "We are right to aspire, however, the hope that such inclusion and accommodation would lead to some reform or moderation of these regimes or assist us in tackling the big global economic and environmental challenges, has been disappointed.
No date for a supplier
However, just a day after Dutton claimed a decision on a supplier could be made within months, Morrison shot down any intention of a pre-election announcement. "We don't anticipate that decision will be made before the election … and no-one should expect it to," he said..
While the Labor Party has held to a bi-partisan approach with the Government, Leader of the Opposition, Anthony Albanese critisized the announcement.
"When we (Labor) make an announcement it will lead to something, not what we're seeing from this government, where they talk a lot about defence expenditure in absence of the actual production of defence material," Albanese said at an Adelaide press conference on Monday.
"You can't defend the country with a media release. You need to defend the country with defence equipment and skills," he added.