Published 09-04-2019
| Article appears in April 2019 Issue
AUSTRALIAN DISTRIBUTOR OF WORKHOLDING PRODUCTS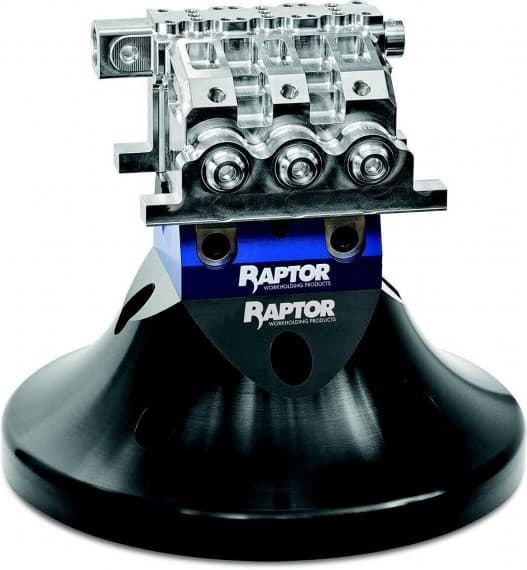 Dimac Tooling has been appointed exclusive distributor in Australia and New Zealand for Raptor Workholding products. Raptor, based in the US state of Ohio, is well known as the designer of an innovative and patented dovetail fixture used by some of the world's leading manufacturers.
The fixture speeds up the manufacturing process by allowing machining of five full sides of a workpiece in one set-up. The design quickly locks the part in place for extreme clamping strength and rigidity with minimal base material. The spring-loaded clamp can be tightened with a simple T-handle wrench. Raptor's dovetail design has been tested for strength by an independent laboratory.
"With Raptor's dovetail fixture a manufacturer can run a wide variety of parts and eliminate the changeover time," Dimac Managing Director Paul Fowler says. "Smaller fixtures can also be attached to larger ones, allowing the user to switch to any size part as fast as you can turn a hand tool."
In addition to the dovetail fixture, Raptor offers an extensive range of strong, flexible workholding products, including vices, multi-fixtures, dovetail cutters, adapters, risers and pinch blocks, which can work independently or together seamlessly.
An example of Raptor products working in unison is starting off with a Raptor self-centring vice. The vice can be used in two ways: holding a workpiece for dovetail preparation or machining a complete part. The dovetail fixture can then be used with its spring-loaded clamping system providing superior holding strength.
The process can be finished off with a dovetailed pinch block. These versatile blocks can be used in a variety of applications including machining the sixth side of a workpiece or for secondary or final machining operations.
"One of the key benefits with Raptor workholding products is that they are extremely adaptable," Fowler says. "They can fit any machine and any situation with a variety of adapters, risers, and fixtures built to attach directly to the most popular CNC machines. Multiple Raptors can be mounted to tombstones, bridges, carousels, trunnions, nests and base plates.
"Utilising Raptor products provides numerous benefits including saving time and money by becoming more efficient and decreasing production time while increasing the yield of finished goods."
In addition to Raptor, Dimac is also the sole distributor of other leading CNC accessory and workholding brands including Kitagawa chucks, the Freddy range of coolant recycling machines, Reven Mist air extractors and Hydrafeed bar feeders.
Dimac Tooling
03 9771 6121
dimac.com.au