AUSTRALIAN CONSTRUCTION INDUSTRY EMBRACES NEW TECHNOLOGIES
28-03-2018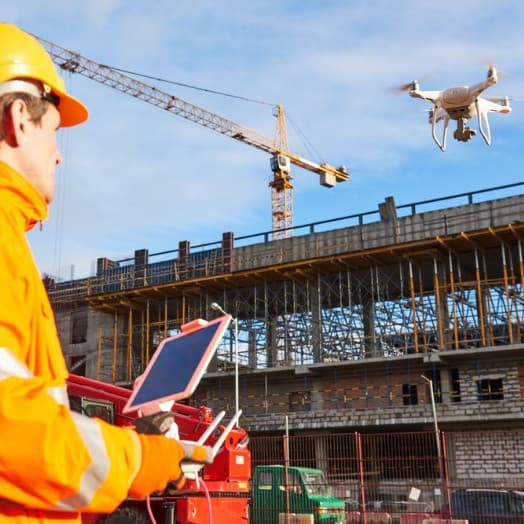 Drones are taking over construction sites
Behind the growing force of construction and all its creativity is technology. Tech-trends have been - and continue to - reshape the building and construction industries for the better. From cost savings, to safety and time efficiency in project planning, technology has had a huge impact on all aspects of the industry. And the benefits aren't slowing down anytime soon.
Smart innovations and cutting-edge software are just some of the things that have encouraged the industry to explode into new realms. Digital transformation is at its peak. And smartphones, aerial drones and 3D modelling are the driving forces behind it.
Today, we rely on technology in more ways than one. The construction industry, including its equipment, productivity and on-site communication are all centred around technology. Here are some of the benefits.
Cloud-based software
The construction industry is officially mobile. Thanks to cloud-based software, industry personal are able to access data and features in real time from remote locations. This multi-device access supports better communication between workers on-site and project coordinators, and allows for an increase in project efficiency and productivity.
Cloud-based software encourages significant money and time savings across the building and construction industries. As cloud computing continues to evolve, stronger team collaboration and project flexibility and reliability are highly recognised. It's also valuable for predicting operating costs, reducing risks and minimising overall expenses.
Concrete NDT
Concrete nondestructive testing (NDT) is an innovative method used to determine the compressive strength of concrete. For new constructions, remodelling or structural additions, testing the concrete's resilience is a vital part of the process to evaluate its quality, and ensure there will be no structural problems down the track.
The traditional testing method of removing the concrete core is a time-consuming and damaging one. Thanks to the evolution of technology however, alternative methods such as concrete NDT can monitor the integrity of the building assets using nonintrusive methods.
3D modelling
The latest advances in 3D modelling technology allow builders, contractors and engineers to use ground penetrating radars and nondestructive testing to gain accurate data. These data are vital to determining what's on the subsurface of structures, which aids in planning and helps to eliminate costly mistakes.
Nowadays, traditional blueprints are replaced with interactive 3D models to give a digital representation of a space and its characteristics, both physically and functionally, with the data provided from such technology. This boosts project collaboration and increases the likelihood of the project finishing on time.
GPS monitoring
Also shaking up the construction and building industries is GPS monitoring. As the world becomes more mobilised, GPS monitoring of machines from your smartphone or laptop can help companies keep track of employees and expensive equipment on sparse projects.
Through GPS monitoring and tracking, more accurate project estimates can be created, operating costs are lowered, route planning is encouraged to operate more efficiently and risks associated with stolen equipment are reduced. Driving habits of staff are better monitored too, improving the safety of employees.
These tracking tools are key in preventing vehicle and equipment misuse, which can also contribute to insurance savings.
Drones
Drones are taking over construction sites, replacing traditional land surveying methods to create a safer and more efficient process. These flying resources are beneficial in reducing the time and labour required for a job, encouraging a more accurate land surveying method. They're also fantastic for use in dangerous and remote areas, significantly reducing the risks that are associated with this line of work for staff.
Drones are a great investment for construction companies. Aside from the safety considerations and project management, they're able monitor workers and multiple job sites, show project progress to clients and complete infrared scans of buildings and structures.
Driverless vehicles
Driverless trucks use a combination of technology, like radar sensing and GPS navigation to perform work on construction and mining sites. Major companies like Rio Tinto are already benefiting from automated operations, and the rest of the industry will be catching onto the ground-breaking technology soon too.
These self-driving fleets are increasing productivity and minimising many of the risks that come with driving heavy machinery in the industry. The safety, productivity and cost advantages are huge, limiting fatigue-related incidents, reducing maintenance costs and delivering positive improvements.
Technology is taking over the construction industry – in a fantastic way. How will you be benefiting from it?
Jayde Ferguson represents Total Scan & Survey – Australia's specialised professional surveying solutions servicing large scale projects in Melbourne, Brisbane, Perth and Sydney. You can catch her on Google+.