AUSTRALIAN COMPANY TO JOIN IN THE BATTERY REVOLUTION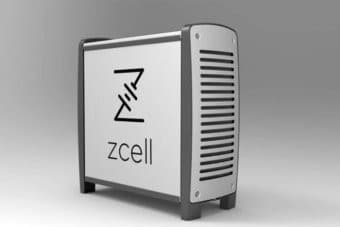 One Australian company is taking on the big electronic companies such as Tesla and Panasonic with a launch of their very own rechargeable power source.
The traditional lithium battery, although helpful, does not have an incredible life span. About 8000 tonnes of the batteries are thrown out every year. According to the Australian Battery Recycling Initiative  that number only expected to increase over the next 20 years, thanks to the solar energy boom.
Brisbane based company Redflow say they have developed ZCell that is unlike its competitors, and does not use lithium, and is recyclable.
"The active parts are plastic, aluminium and steel, the fluid electrolyte can be removed and cleaned and put in the next battery so the whole thing is very recyclable," executive chairman Simon Hackett said.
The battery is designed to store 10kWh of electricity — enough to keep most homes running for a day or two.
"It's a very effective high capacity battery. It's about the size of a bar-fridge on its side and it goes outside an external wall of your house."
And with generous government rebates for energy fed back into the grid, demands for home batteries have soared.
Approximately 1.5 million homes have been fitted with solar panels, with international companies launching various battery models in Australia.
In NSW, generous premiums are paid to homeowners for exporting their solar electricity to the grid are set to expire at the end of the year.
Redflow announced its new battery to the ASX this morning.