AUSTRALIAN COMPANY CHARGES INTO UK NETWORK DEAL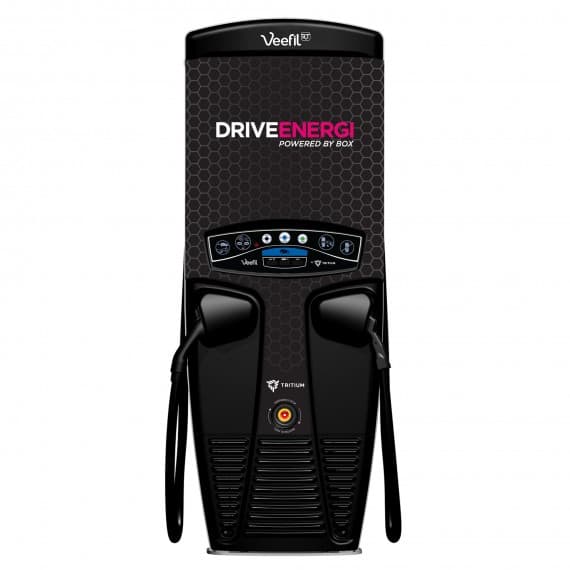 Brisbane-based Tritium, which designs and manufactures advanced fast-charging equipment for electric vehicles, has signed an agreement to be the sole supplier of DC rapid chargers for a network of recharging sites across the UK.
DRIVE ENERGI, which is owned by BOX ENERGI, an energy, mobility and digital infrastructure developer, is aiming to install at least 100 sites by the end of January 2020 and 2500 by 2025. Once completed, it will be among the largest single-country DC rapid charging networks in the world and, given its size and the geographic range of the potential sites of the network, will effectively eliminate 'range anxiety' in the UK.
"We chose to work with Tritium because its technology is proven and its chargers are reliable, robust and trustworthy," DRIVE ENERGI CEO James Moat says. "These chargers are not only the fastest and most advanced in their class, but incredibly easy to use and, with the world's smallest physical footprint, to deploy as well – particularly in our cities and high-density areas where space is increasingly limited."
Each site will feature one or two Tritium Veefil-RT 50kW DC Rapid Chargers – capable of adding 60 miles (100km) of range, more than three times the average daily commute in the UK, in 20 minutes of charging – along with a number of lower-power AC chargers. By comparison, a 7kW charger – typically found in homes and some publicly-available sites in the UK – can add about nine miles (14km) in the same time.
In addition to working with DRIVE ENERGI to install the chargers, Tritium will supply 24/7 support for the network, including on-site support where and when required. Each charger features a modem that constantly transmits data to Tritium's team of support engineers, who can also be contacted via phone at any time.
Further, each charger manufactured by Tritium is certified to comply with stringent ISO standards for quality, health and environment.
The company recently opened its state-of-the-art Tritium E-Mobility Innovation Centres in Brisbane and Amsterdam. These new and upgraded facilities will allow the company to ramp up its R&D and increase production levels to cater for the rising demand in charging infrastructure across the globe. As the DRIVE ENERGI network is slated to be Tritium's largest deployment of Veefil-RT 50kW DC Rapid Chargers for a single network, the increase in production capability is timely.
"As the nation increasingly looks to electrify transportation, and as the ULEZ (Ultra Low Emission Zone) scheme comes into effect, the need for reliable, smart and easy-to-use charging infrastructure is critical," Tritium Business Development Manager for UK and Republic of Ireland Kevin Pugh says. "DRIVE ENERGI is an exciting addition to the market with a vision to build a new network offering charging confidence with the EV driver's needs at its core.
"With the average daily commute in the UK in the vicinity of 20 miles, a single 20-minute charge will add about three days of range to an EV. The sheer scope of the proposed DRIVE ENERGI network means that people will easily be able to find a charger, no matter where they are and no matter when they need it."
DRIVE ENERGI will be a mix of publicly-available and private charging solutions across the UK, with the private charging catering to the increased electrification of the country's private fleets.
Tritium
07 3147 8500
www.tritium.com.au