AUSTRALIAN AIR COMPRESSOR CUSTOM DESIGNED FOR AFRICAN MINE
31-05-2016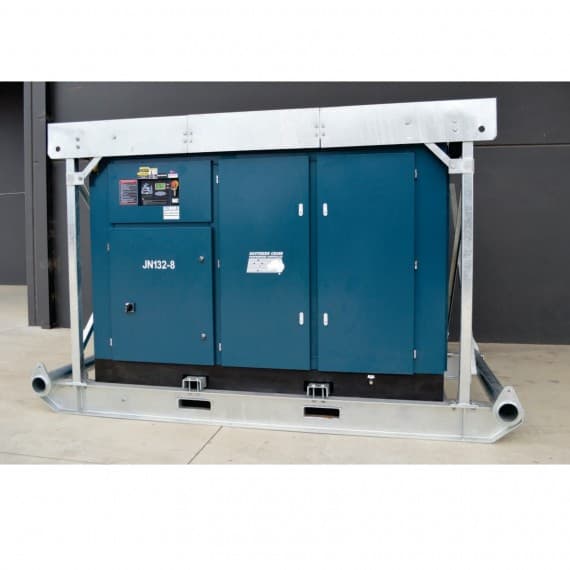 When a large Australian mining company needed a high output compressor to run its drilling and other underground equipment in their Congo mine operations, they asked Hoerbiger Australia to source a compressor to their exacting specifications.
Not only did they need a custom built, high output air compressor, they needed a rugged, low maintenance unit that could operate in harsh mining conditions deep underground … and it had to be portable, a big ask for such a larger compressor.
The compressor supplier, Southern Cross Compressors Australia, designed, manufactured and assembled a high strength skid framework that acts as a towable sled when the unit is moved throughout the mine. This framework also protects the compressor from damage from rock falls that often occur.
The compressor was a direct drive, Southern Cross JN 1322-8, 525V to meet the customer's specific power requirements:
·       132kW 8 Bar
·       24.63 sqm/min
·       3350kg for compressor
·       2912 (l) x 1850 (h) x 1670 (w)
Hoerbiger Sales Engineer, Marcel Portelli explained that the Southern Cross Compressor was favoured for its robust, heavy duty construction, high air output, low power use and maintenance, smooth, quiet operation and low running costs.
Mr Portelli says Southern Cross met the required specifications, time frame and budget (even considering the cost and time to deliver the unit to the Congo).
This venture by Southern Cross Compressors into the specialized export market clearly demonstrated that the company can compete favourably on the global market.
Southern Cross Compressors
Ph: 1300 098 901