Published 26-05-2020
| Article appears in April 2020 Issue
AUSTRALIA STRONGER WITHOUT FRAGILE SUPPLY CHAINS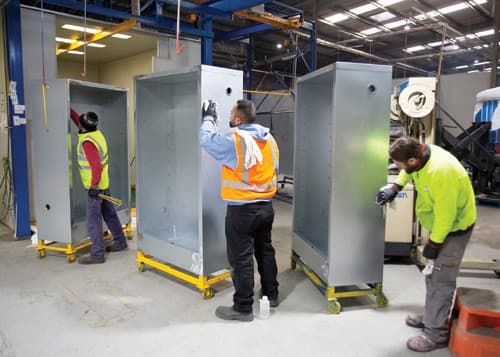 The past few months have exposed Australia's vulnerability of reliance upon imported goods, especially products such as PPE, safety products and industrial consumables. This supply gap puts lives at risk.
It's a clear example of how susceptible we are to any change in global circumstances. During the COVID-19 pandemic, overseas manufacturers that the world has relied upon for so long have looked after their own country first, ahead of their export obligations.
During the crunch, many Australian factories and workshops have retooled and repurposed equipment and processes.
Global Spill has manufactured spill and safety equipment in Melbourne for almost three decades. Over the years, it has witnessed the decline in Australian manufacturing and ambivalence in support for Australian Made products.
Focus has been fixed squarely on price, with supply chain security sacrificed to save a few cents here and there.
"There's a very common misconception that Australian Made means more expensive and this kind of thinking puts up a barrier before we even enter the race" says Brad Lowson of Global Spill & Safety.
"The reality is, it doesn't always cost more and our loyal customers have enjoyed stable pricing and uninterrupted supply over the past few years, and in particular, the past few months."
As Australia's only manufacturer of absorbent polypropylene, Global Spill has a responsibility to make essential safety equipment for Australian workplaces. As such, it continues to supply this important material to its customers while other importers have run out of stock.
Global Spill's locally manufactured range of products such as safety cabinets and spill pallets remains uninterrupted; manufacturing has continued throughout the pandemic.
Another encouraging development to come from the crisis is the renewed support for Australian Made products and local businesses that stems from both government and the community.
This must continue beyond COVID-19. Lowson believes the appreciation and support currently enjoyed by Australian Made needs to become embedded within business and the community.
It's also a timely reminder of the indirect contribution that buying Australian Made makes to the Australian economy. Global Spill employs over 140 Australians, each with a family depending upon them. The economic multiplier effect cannot be understated – Australian manufacturers pay Australian taxes, keep more profits in Australia and are not taking money out of Australia to pay overseas.
What does this mean for the future?
Australian businesses must wholeheartedly value and support Australian Made, and at times be prepared to pay a little more for that. According to Lowson, the domestic economic benefit alone is enormous. "It is good for Australia in the long run and this needs to be a long game."
The Federal Government must consider the economic value of Australian Made throughout all its tendering processes, low and high value tenders alike.
Australia must learn the lessons of the COVID-19 pandemic, and be willing and able to become a self-sufficient manufacturing nation. We can do it.
Global Spill & Safety
1300 774 557
www.globalspill.com.au