AUSTRALIA HOLDS STEADY IN DIVIDEND PAYOUTS
23-08-2016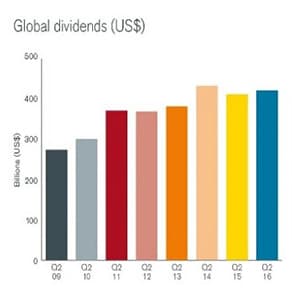 While American growth has slowed dramatically, and European markets have begun to expand faster, Australia sits comfortably in the middle with its largest dividends payer holding steady, and overal dividends barely decreasing on an underlying basis.
While this de-emphasis on the Australian and American markets does put pressure on investors, the expanse of Asian and European markets, and the global market as a whole, shows a promising economic future for investors.
Alex Crooke, Head of Global Equity Income at Henderson Global Investors said:
"Encouraging growth in Europe is helping to balance the global picture for dividends. Any weak spots in the region have been company-driven, or owing to specific sector trends like the impact of lower commodity prices, rather than related to wider economic difficulties."
The latest Henderson Global Dividend Index has reinforced the need for Australian investors to seek income in offshore markets as Australian equities continued to produce flat dividends. Each year Henderson analyses dividends paid by the 1,200 largest firms by market capitalisation.
Overall, global dividends rose 2.3% on a headline basis, reaching $421.6bn, an increase of $9.7bn year on year.
The slowed growth for the quarter partly reflected Q2 seasonal patterns that give greater weight to slower growing parts of the world, and partly owing to a more muted performance from the United States, partly due to the impact of a strong dollar. This US slowdown began late last year but should be considered a normalisation to more sustainable levels of dividend growth after several quarters of double digit increases.
The Netherlands and France had the second and third fastest dividend growth in the world on an underlying basis, while Germany and Spain lagged behind owing to very large dividend cuts from Deutsche Bank, Volkswagen and Santander. Over four fifths of European companies held or raised their dividends year on year.
The second half of the year is likely to be weaker than the first, partly because seasonal patterns mean the emphasis shifts slightly towards those parts of the world where dividends are growing more slowly, like Australia, the UK and emerging markets.
"Thinking globally for income really helps investors reduce their reliance on any one part of the world, providing more stable dividend growth over time than any one country could normally muster," said Alex Crooke.