IS THIS AUSTRALIA'S SAFEST WORKFORCE?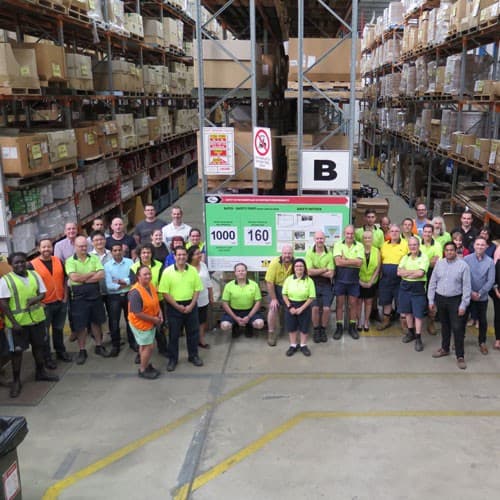 The workforce of 1000 safe days
Gates Australia registered a significant milestone in its warehouse last month by passing 1000 days without a lost time injury.
The company reckons the achievement has been brought about thanks a range of different safety initiatives, including a revised pre-shift exercise routine, ergonomics workshops for all new staff, improved housekeeping and hazard identification, the installation of safety barriers around walkways and adoption of industry best practices for forklift operators and warehouse packers.
The 1000-day record was commemorated with a morning tea for all staff in the warehouse, and the company's Managing Director Carl McGowan said it was a day for all Gates Australia staff to be proud of.
"All Australasian employees have contributed to this with their support and diligence. This is a really significant milestone and one that many other workplaces don't achieve. It is a testament to our dedication to creating a safe workplace and to the culture that all employees share in – the collegiality, the friendship and the attitude that we all have towards our work here, no matter what area of the business we work in."
Naturally, now the pressure is really on for all Gates staff to push the safe working record even further! The next milestone - three full years without a lost time injury – is due on the 20th June 2017.
Gates Australia
03 9797 9666
www.GatesAustralia.com.au