AUSTRALIA'S LARGEST RANGE OF FANS IN STOCK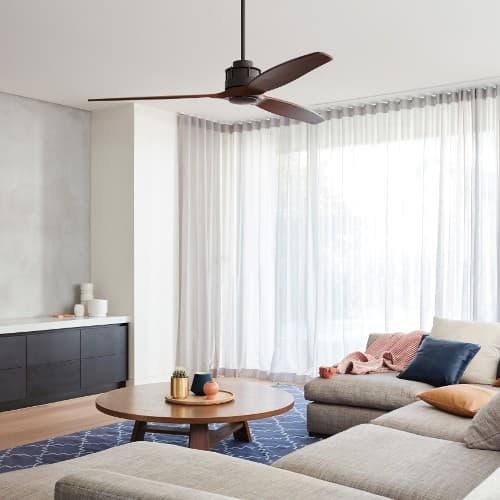 Beacon Lighting reckons that Australian homes and businesses can enjoy easy, breezy living all year round with its new ceiling fan collection. The range features new with inspired designs and allows users to reduce their energy costs.
With power costs continuing to rise, a ceiling fan is becoming an absolute must-have, allowing users to beat the summer heat for as little as 1 cent per hour (based on an average electricity price of 0.28c/kWh). When used in conjunction with air conditioning, a ceiling fan can help reduce running costs by up to 40%.
For even better energy efficiency, users can choose a fan with DC technology. Direct current fans are super energy efficient, while still maintaining high volume air movement and silent operation. The highly efficient DC motor saves up to 65% of the energy used by ceiling fans with traditional AC motors. DC fans cost only 1 cent per hour to run, making them an ideal addition to any home or business.
Beacon's new fan collection has a style to suit every space. From dramatic black and crisp white to the beauty of natural timber, Beacon offers options for any style and budget.
Domestic fans are available from Beacon Lighting stores nationwide and online. Business users should contact Beacon Lighting Commercial.
Beacon Lighting
www.beaconlighting.com.au
Beacon Lighting Commercial
www.beaconlightingcommercial.com.au