Australia's Fusion Hire & Sales (FHS) and Polysmart expand to Queensland
12-05-2014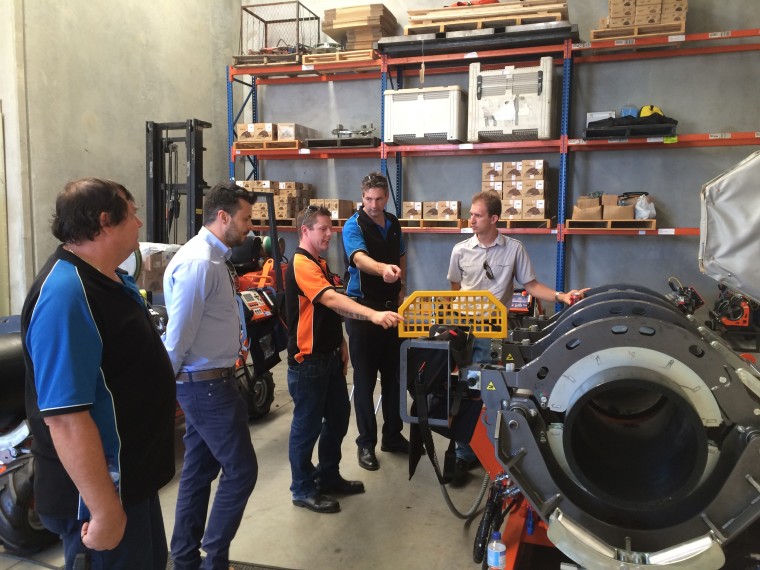 Leading Australian plastic welding equipment supplier Fusion Hire & Sales Pty Ltd (FHS) and training organisation Polysmart Pty Ltd have expanded their operations with a new branch opening in Hemmant, Queensland. An official open day was held in the first week of April to celebrate FHS and Polysmart's newest venture, which comes in response to an increasing demand for polyethylene welding equipment and training in Queensland, particularly from the coal seam gas and mining markets.

Taking over business from previous Queensland based company and customer of FHS, Mining Industrial Plastics (MIP), Darren Poynton, FHS and Polysmart director, said the opportunity to expand was too strong to ignore. "We'd been dealing in Queensland already for quite some time and the opportunity arose. With the coal seam gas and mining markets in Queensland there was a really strong driver to expand our presence and open a facility locally," Poynton said. "It was the next biggest growth area for us and a new milestone for FHS as well as Polysmart."

The FHS and Polysmart Hemmant facility is located approximately half an hour from the Brisbane airport and just fifteen kilometres from the city centre, making it an accessible location for Queensland based customers.

Marking the company's official takeover from MIP as well as the official opening of the newest branch in the FHS family, the open day saw members from a range of industries including civil, mining, gas, and others attend throughout the day to network and see FHS's latest technology on offer.

With over a million dollars of extensive equipment on display from leading high quality brands such as Ritmo, Munsch, Forsthoff and Caldervale, attendees were offered the chance to submit their business cards to go in the draw and win one of two high-quality Forsthoff QL welders. The winning entries were drawn by special guest and Ritmo representative, Andrea Muraro, who was in the country demonstrating Ritmo's latest technology on the market.

FHS is the largest polyethylene pipe fabrication workshop in South-East Australia with a large range of plastic welding equipment and services available across civil, mining, plumbing, automotive, irrigation and industrial industries. Operating since 1995, FHS's main headquarters are based in Seaford Victoria with a large variety of equipment to suit all needs.

Operating since 2011, Polysmart provide nationally accredited polyethylene welder training in butt welding, electrofusion and extrusion welding to a large variety of industries using plastic welding equipment.